work we are proud of…Awards, Trophies & Medals
More Creative provide quality custom, personalised and bespoke awards, trophies & medals using a variety of material choices.
To help select the best award or trophy style for you, choose one of the following…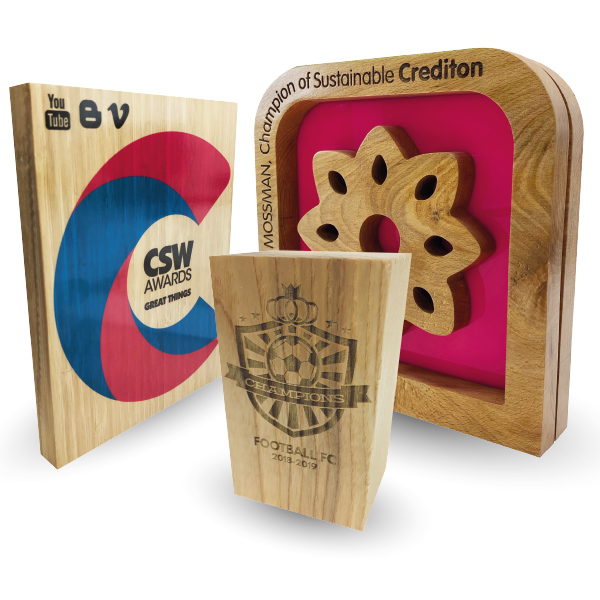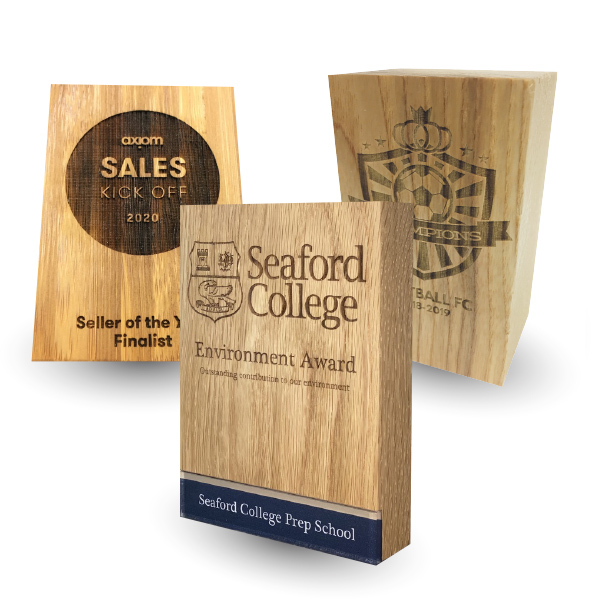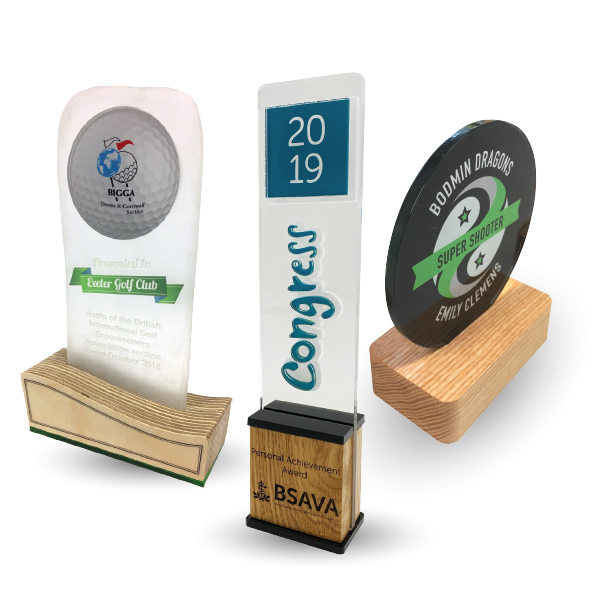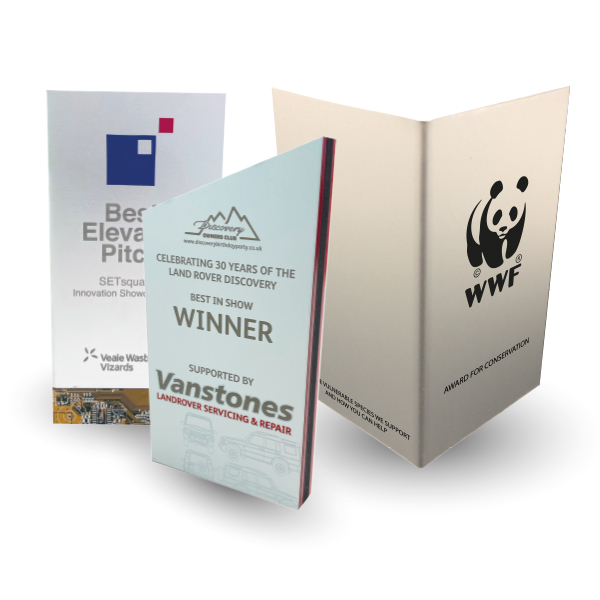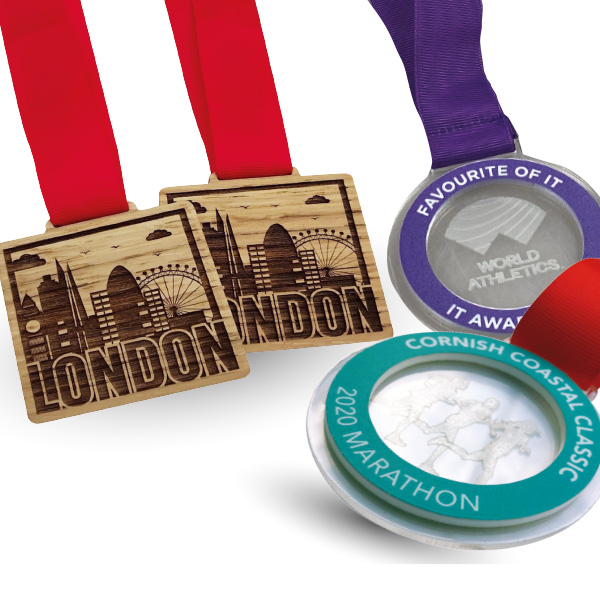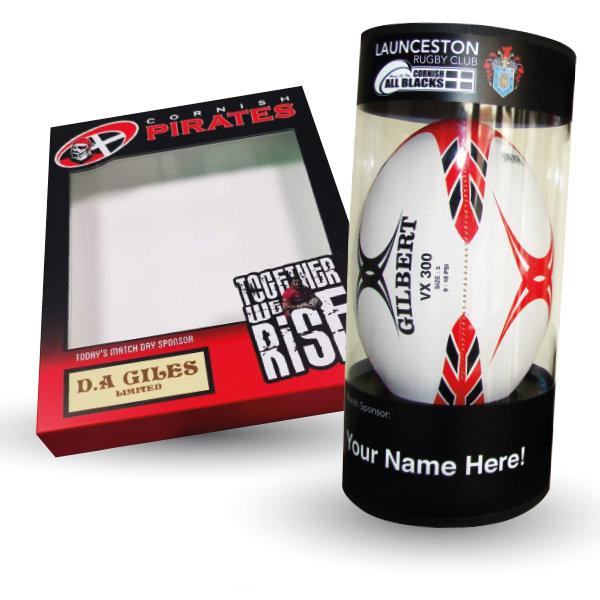 Exceptional awards and trophies created to promote your event and brand. If you are an event organiser looking for a quality design and make award service then take a look at what awards and trophies the team here at More Creative can produce for you. Our bespoke awards and trophies are produced using a variety of materials like recycled acrylics, wood, stainless steel, glass and aluminium.
We also provide a variety of different recycled and sustainable awards to reduce the environmental impact and provide that extra special finish. With our in-house CNC cutting, laser engraving and direct digital print facilities we can offer awards that are truly different to anything that you can purchase elsewhere.
We have
no minimum order
, so if its just a single award that you require then that is no problem, just give our team a call to discuss your options.
Don't forget we also offer
banners
,
digital printing
and
exhibition
build for your event.
Contact a team member here
Awards, Trophies & Medals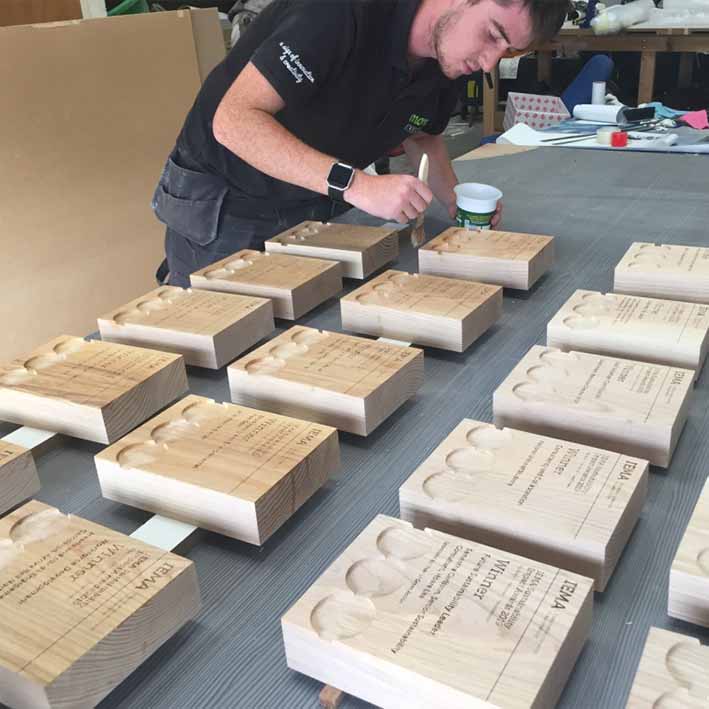 Sustainable Awards & Trophies
A selection of our sustainable awards that have been designed and made for our clients all over the world, using a wide variety of sustainable and eco materials.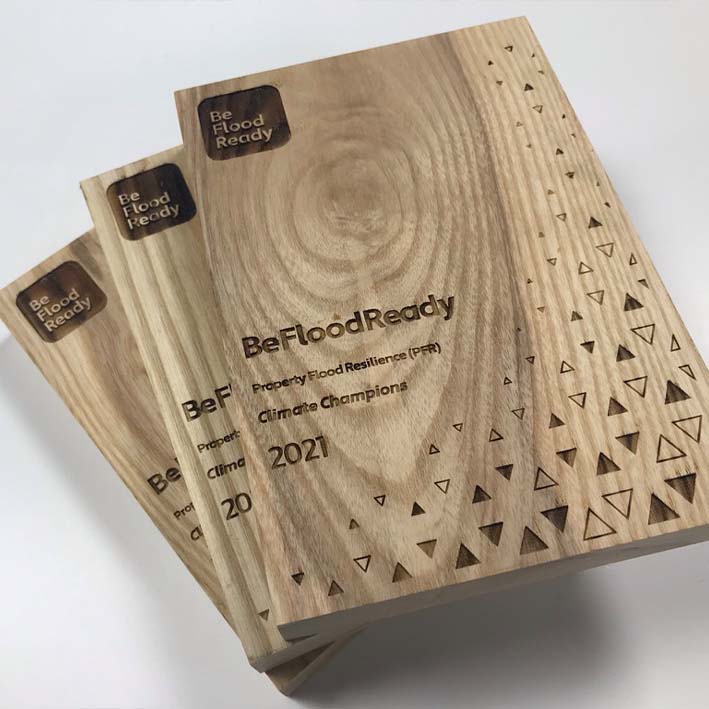 Climate Change Awards with reclaimed timber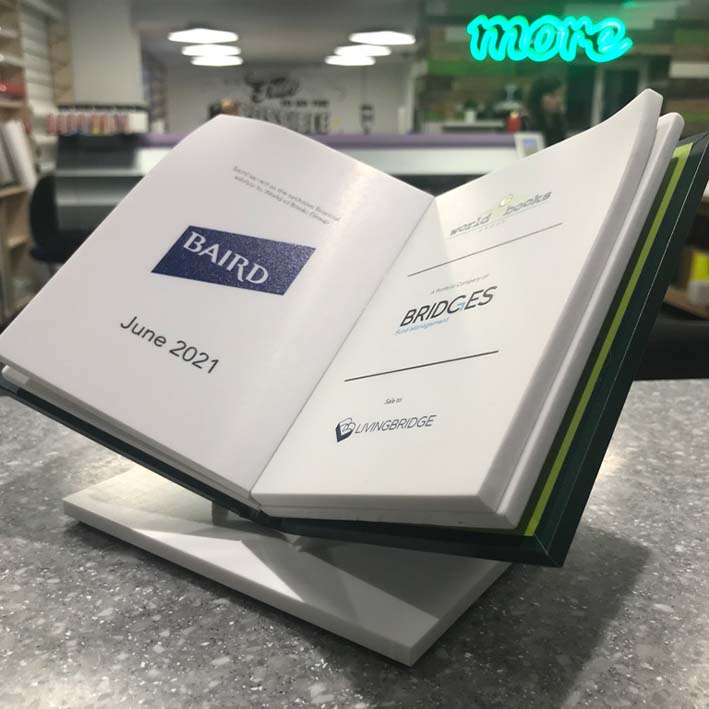 Sustainable World of Books Awards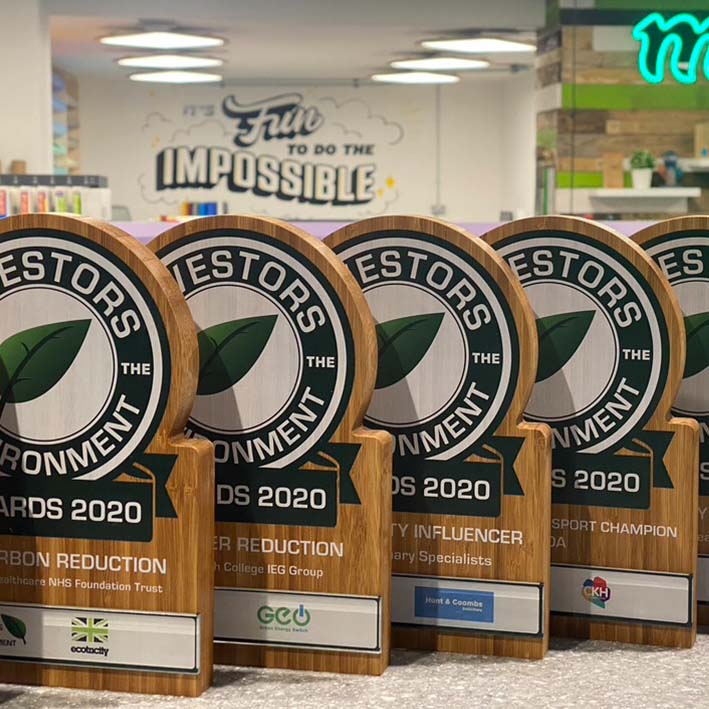 Sustainable Bamboo Environment Awards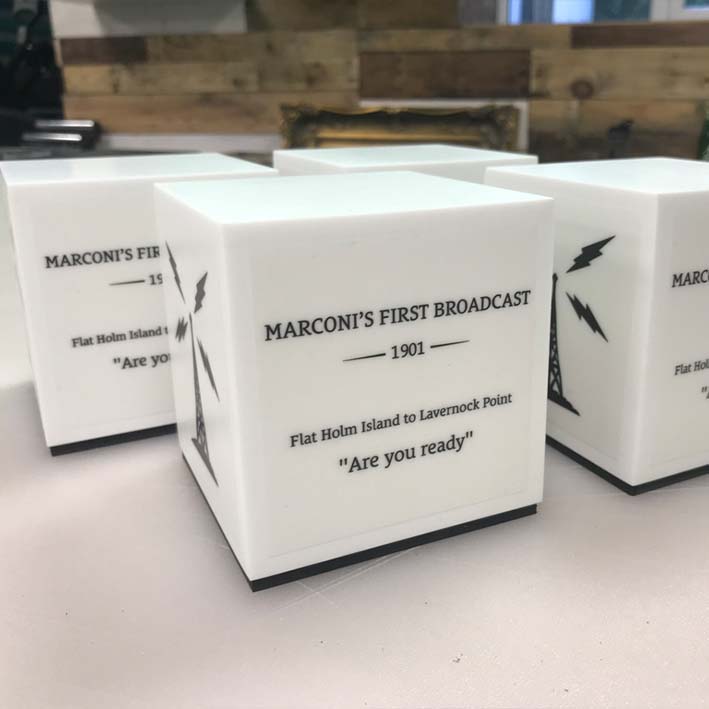 Cube Shape Broadcast Awards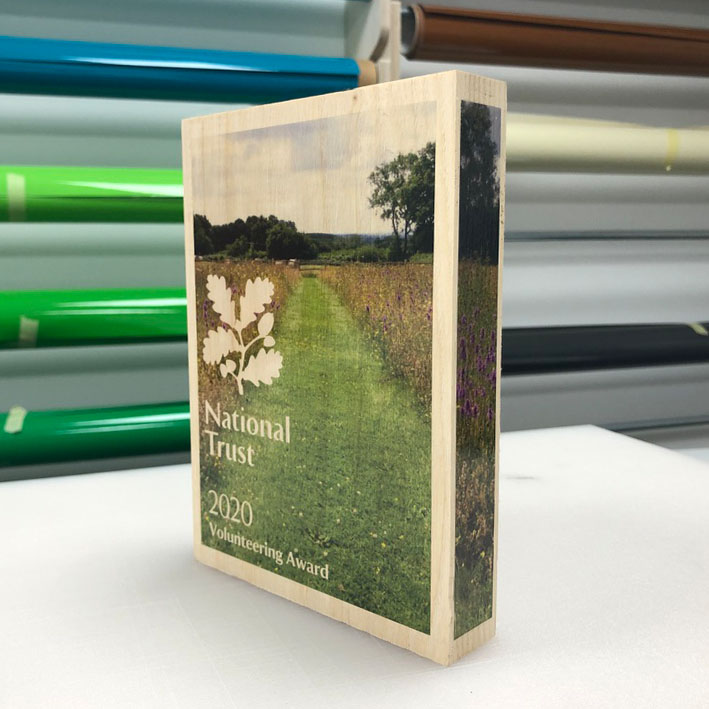 National Trust Volunteering Awards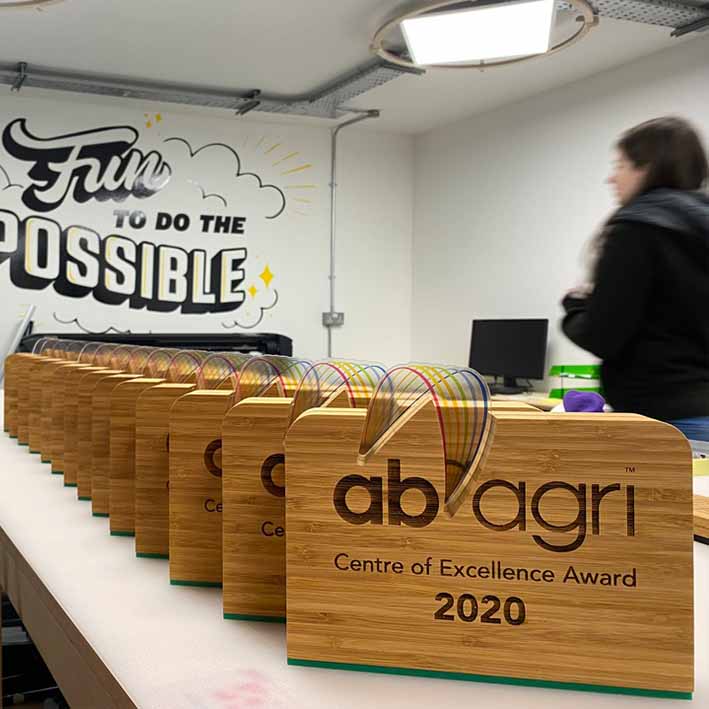 Sustainable Ab Agri Excellence Awards, Peterborough
Sustainable Cube Shape Awards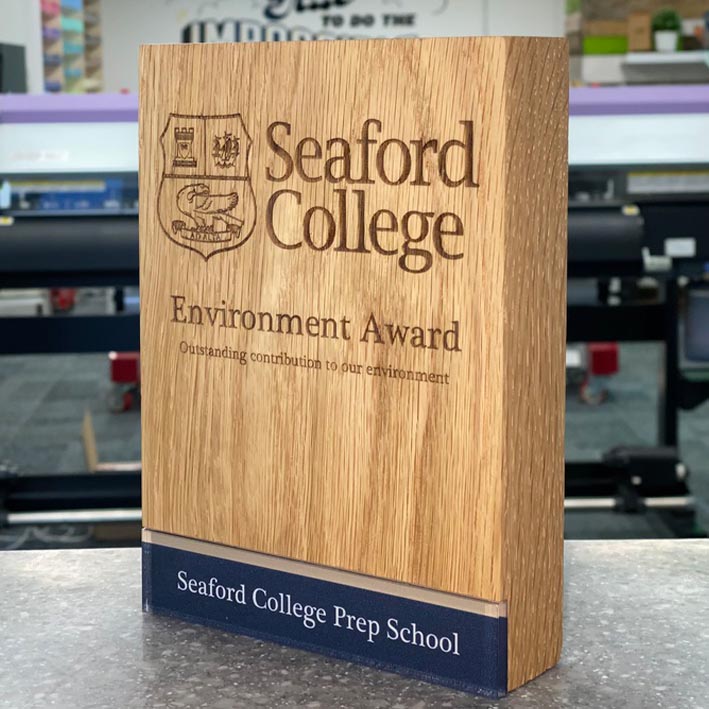 Wooden School Environment Award, Seaford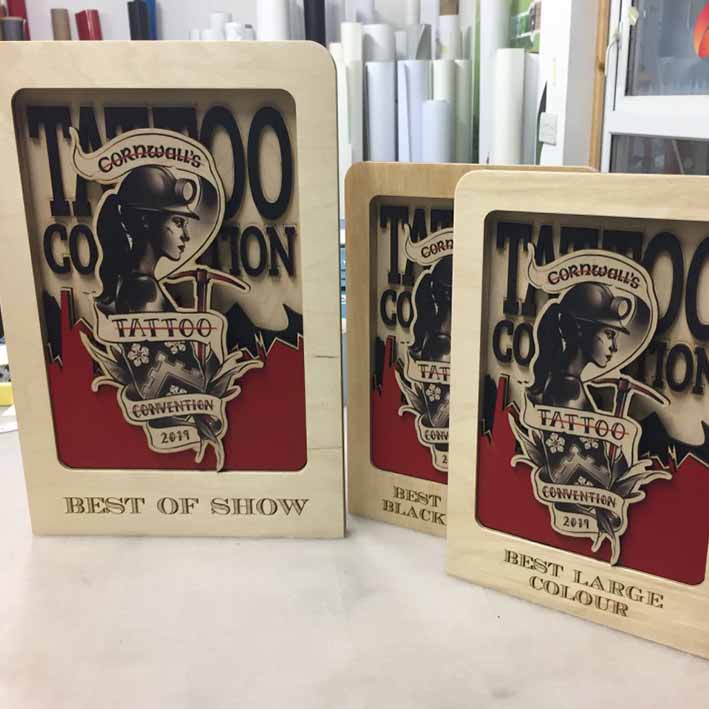 Cornwall Tattoo Convention Awards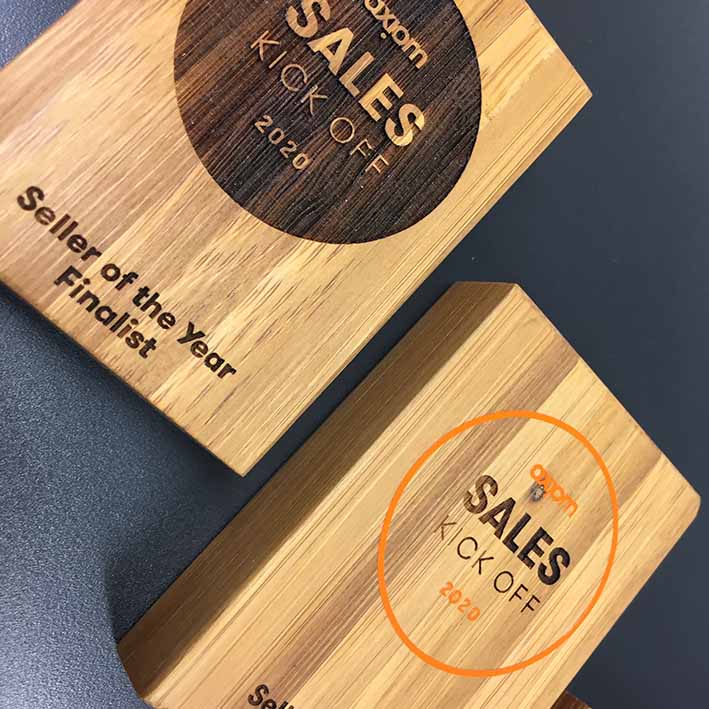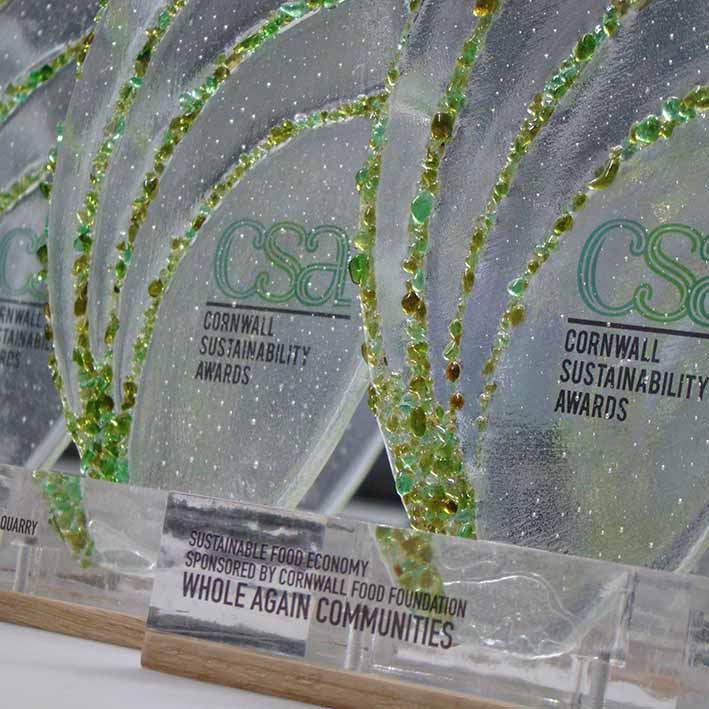 Cornwall Sustainability Awards Recycled Bottle Glass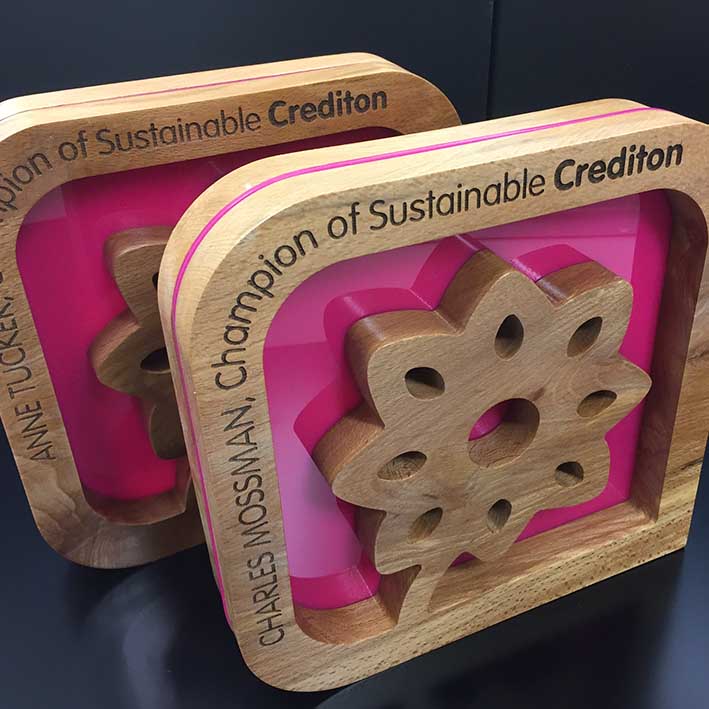 Custom Sustainable Awards, Crediton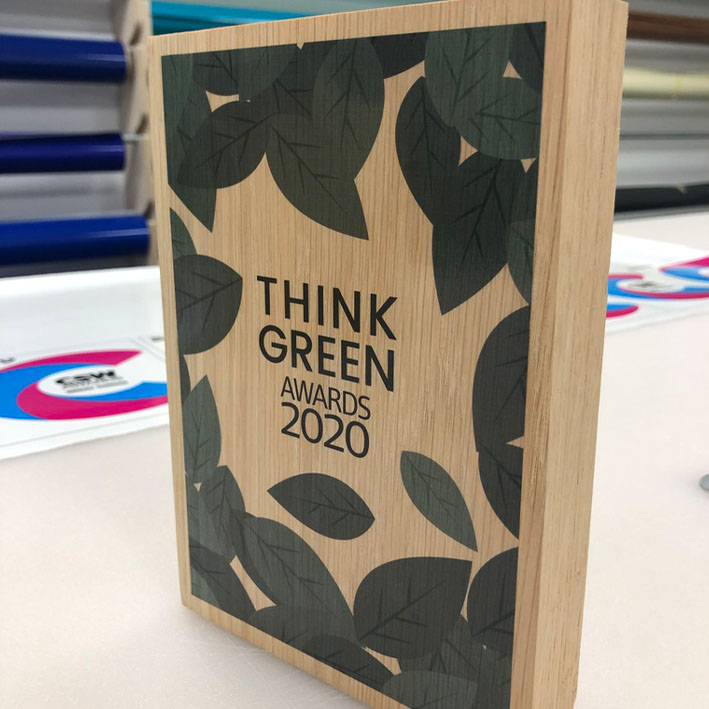 Green Environmental Awards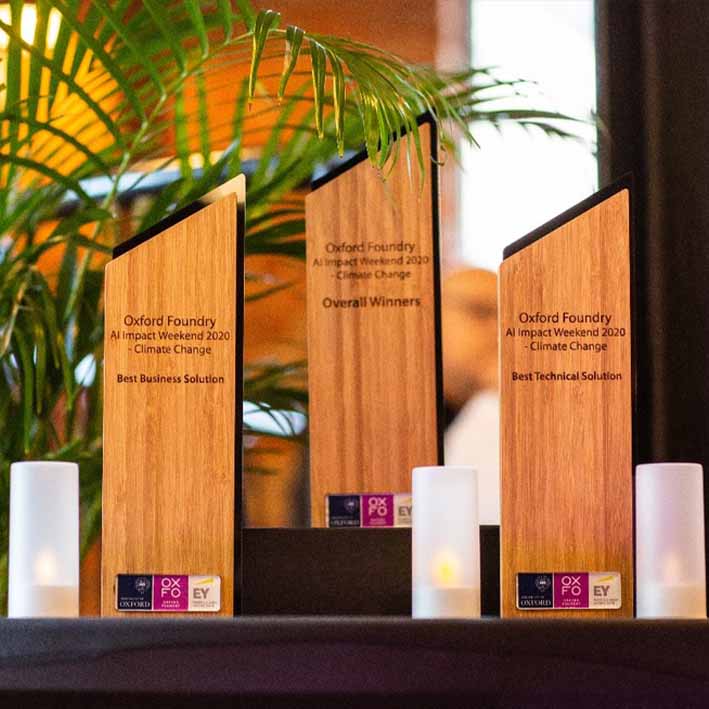 Oxford Foundry Sustainability Awards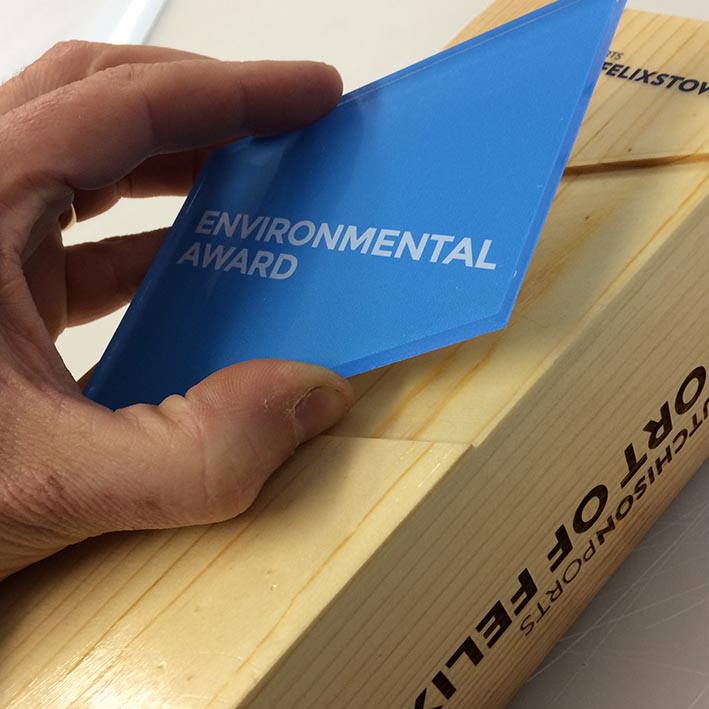 Award with recycled acrylic inlay detail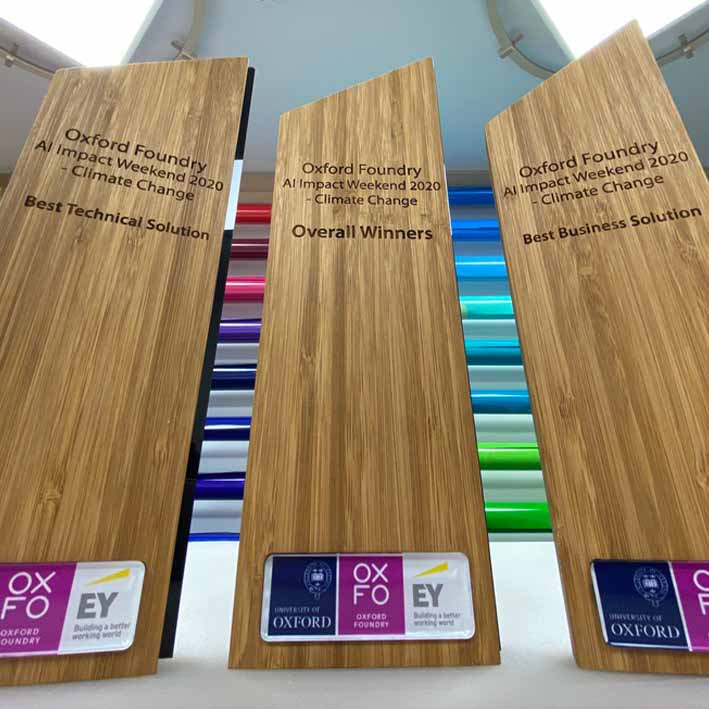 Climate Change Awards with recycled acrylic inlay detail
Our wooden awards are often produced from our carefully chosen native hardwoods that have been sourced from fallen tree stocks found at various estates throughout Britain. We commonly use woods such as Oak & Ash & Birch.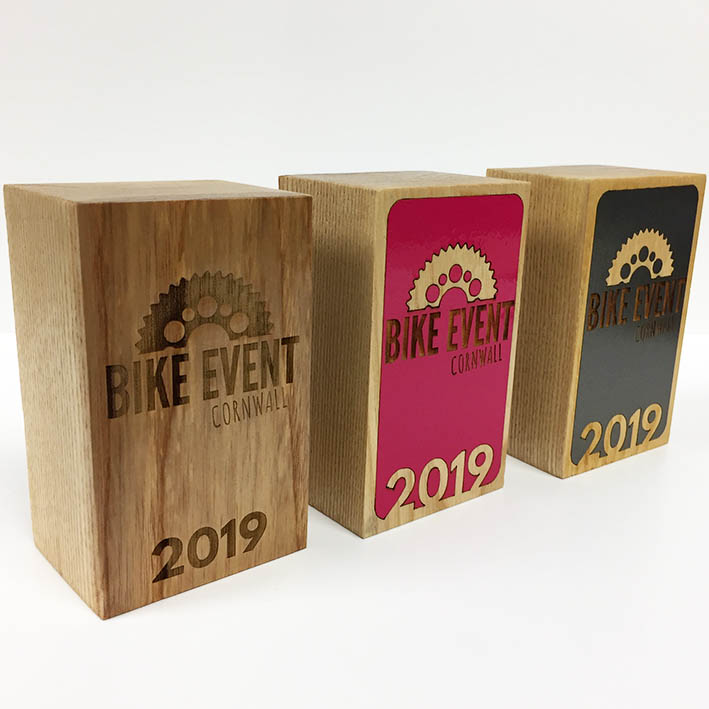 Bike Event Cornwall Awards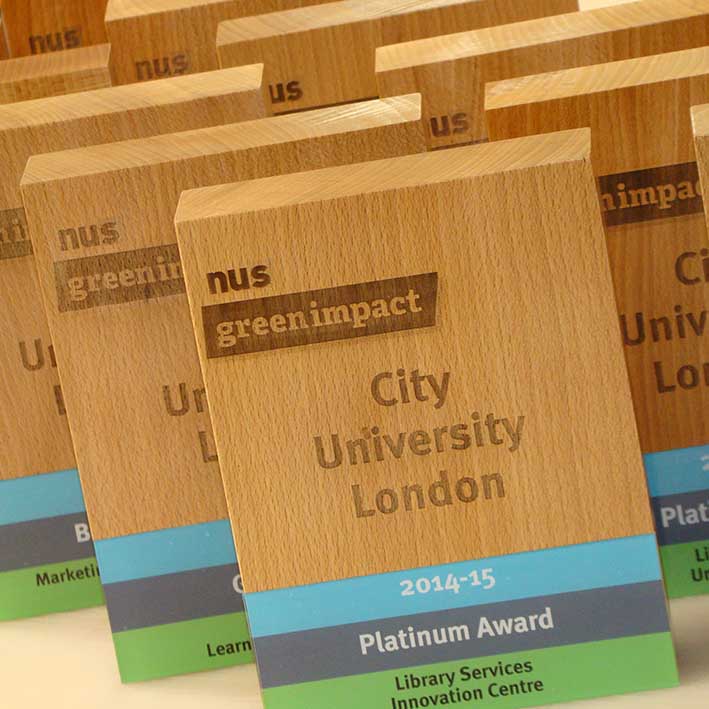 Laser Engraved Oak Awards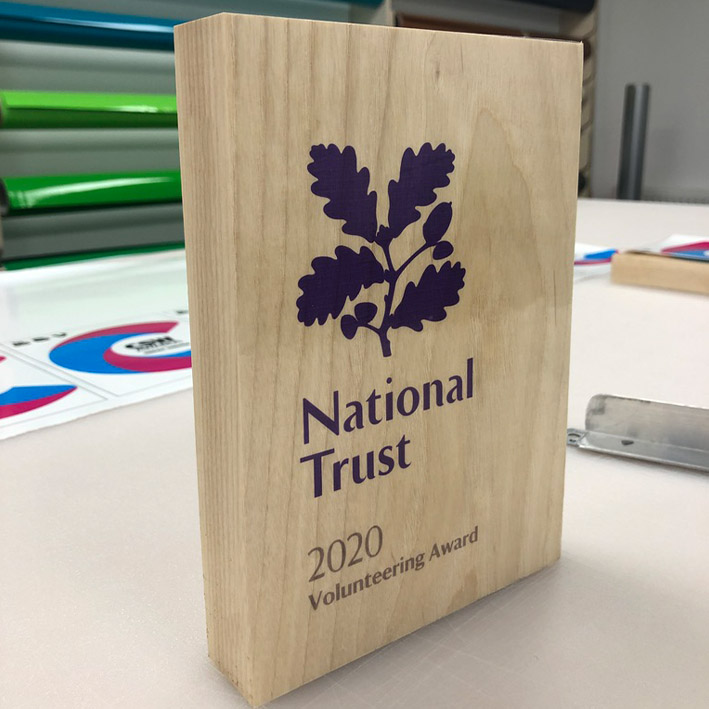 Direct printed wooden ash award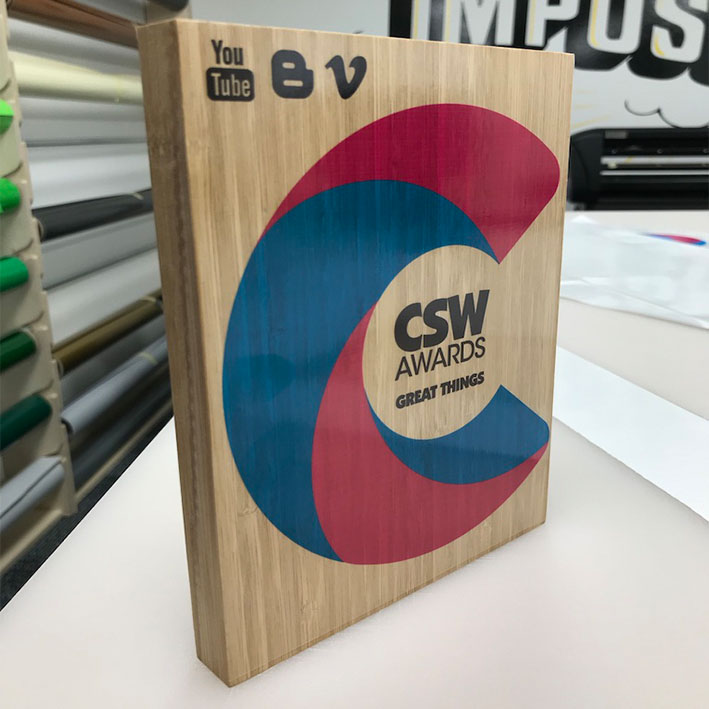 "Great Things" Award s for CSW in Bamboo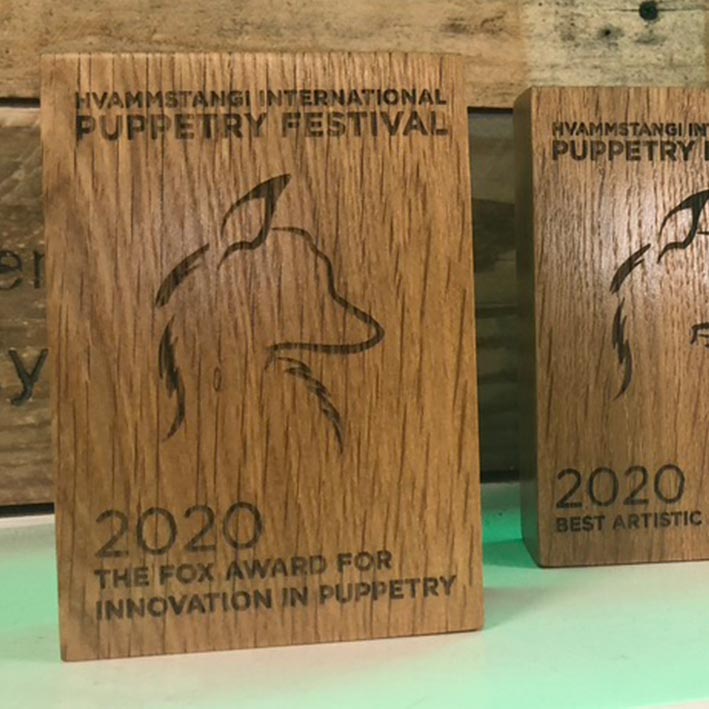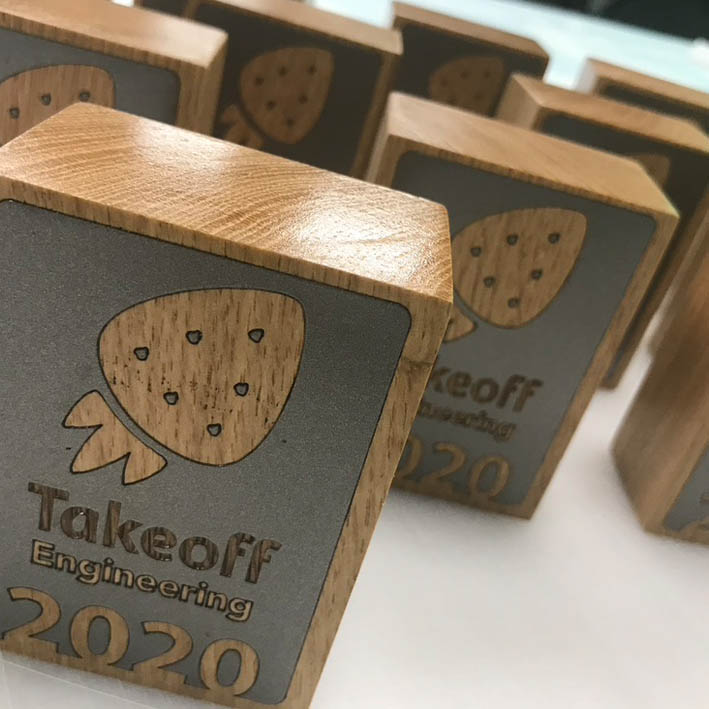 Wooden Engineering Trophies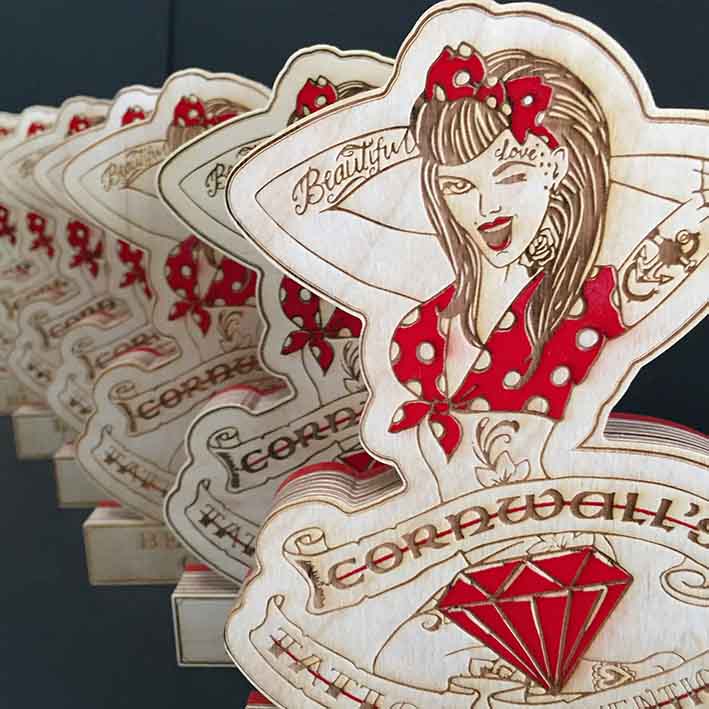 Laser Cut with colour infill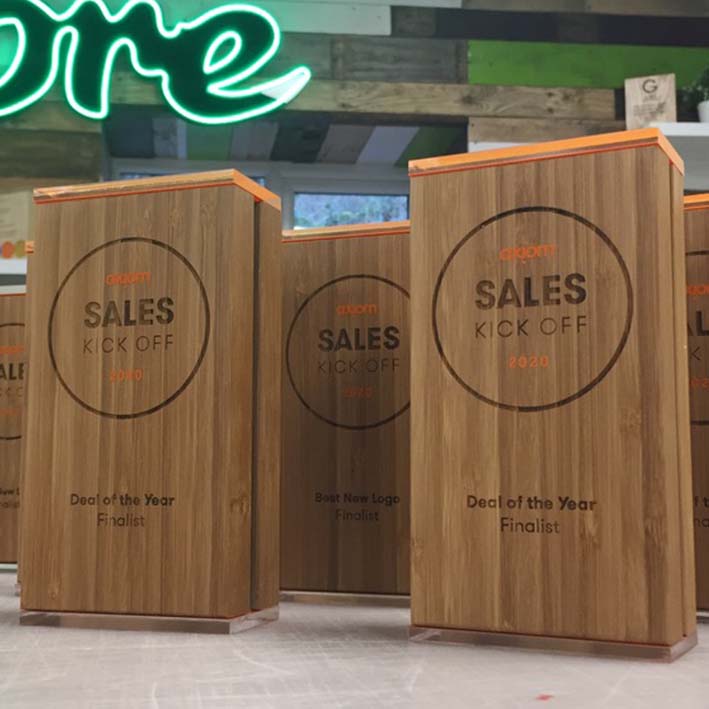 Axiom London Awards Sustainably Produced from Bamboo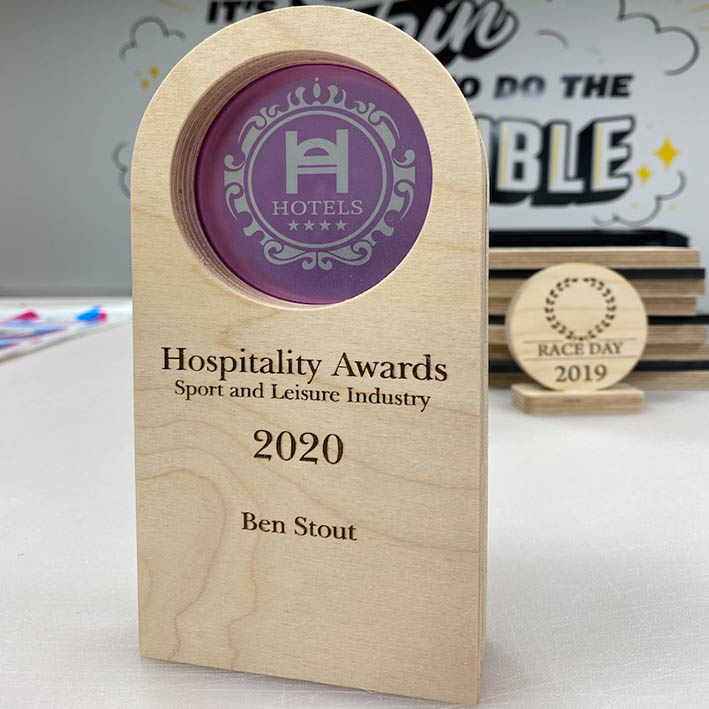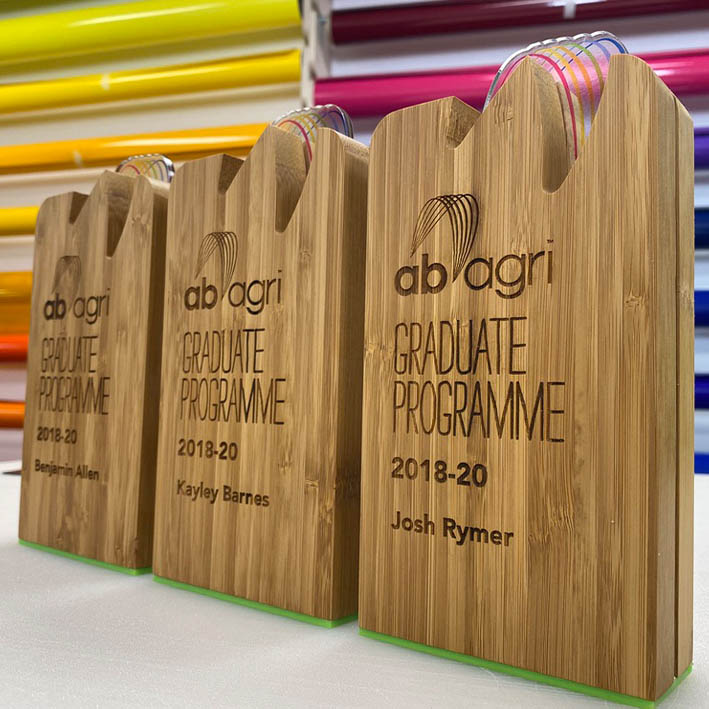 Personalised Graduate Awards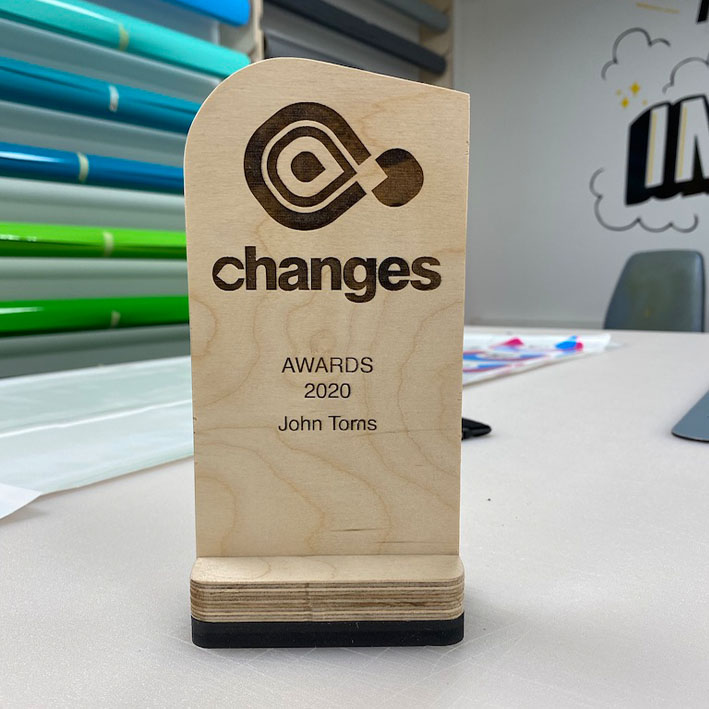 Changes for Britain Awards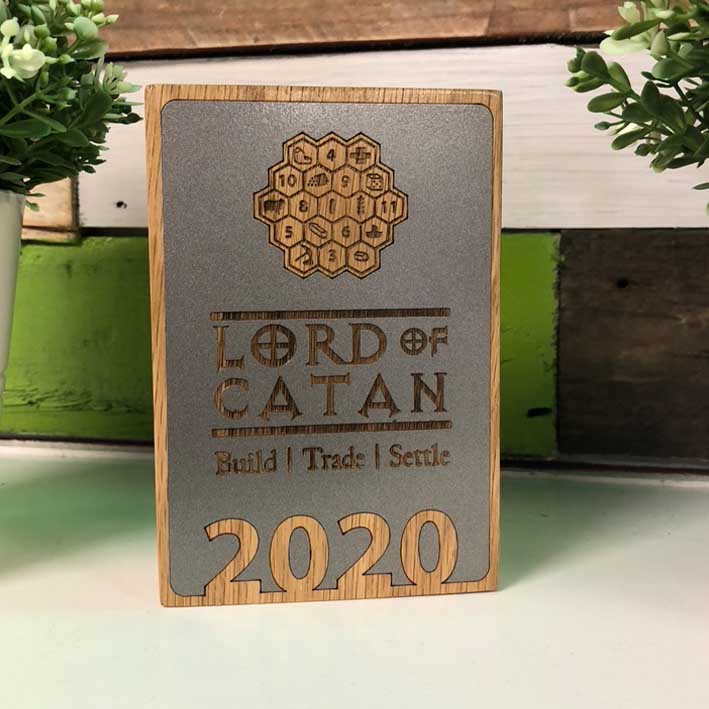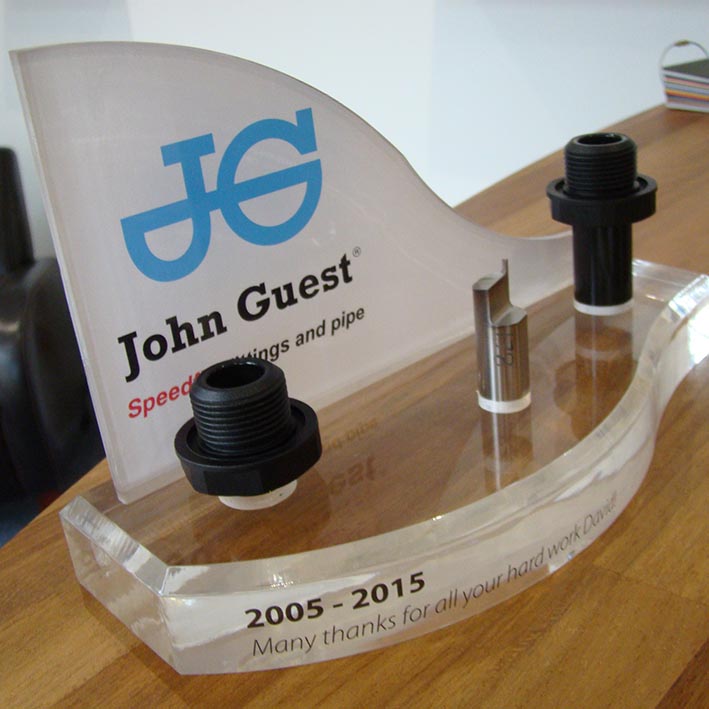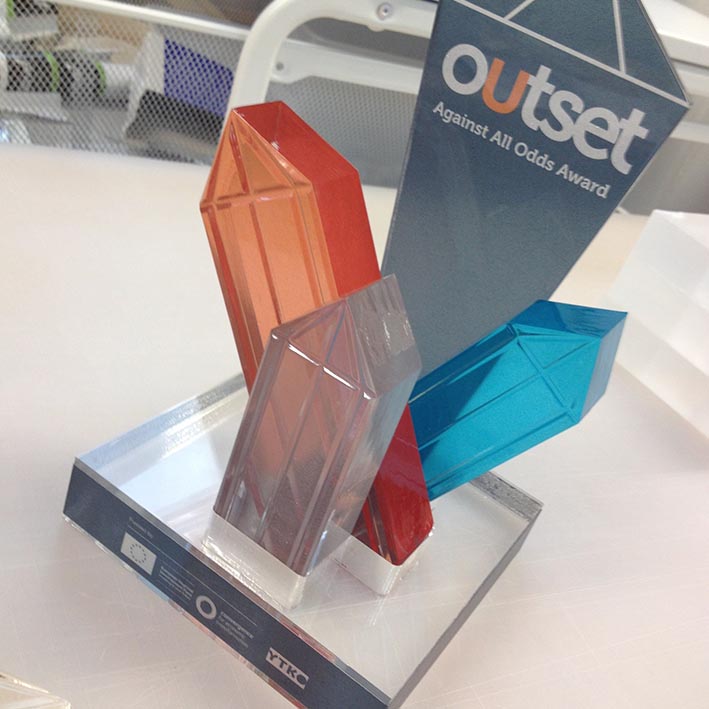 30mm Laser Cut Acrylic Awards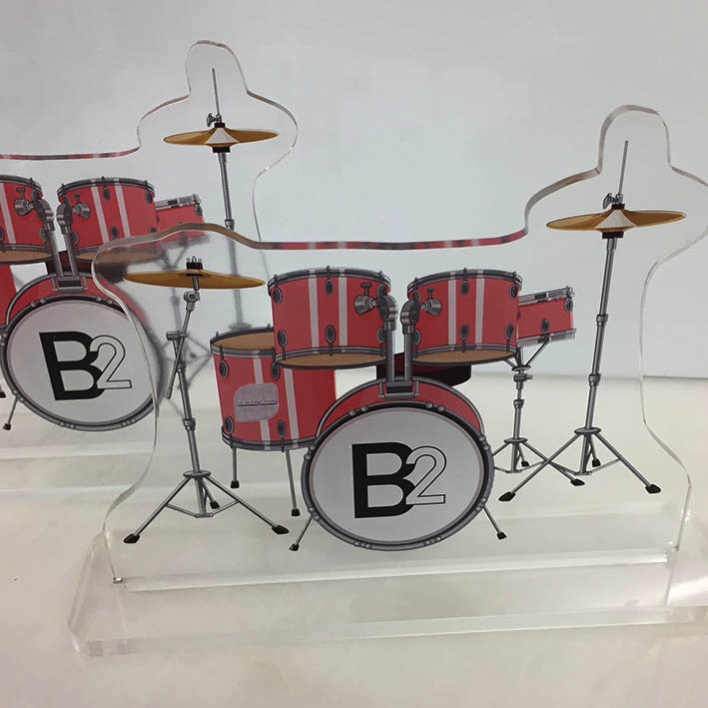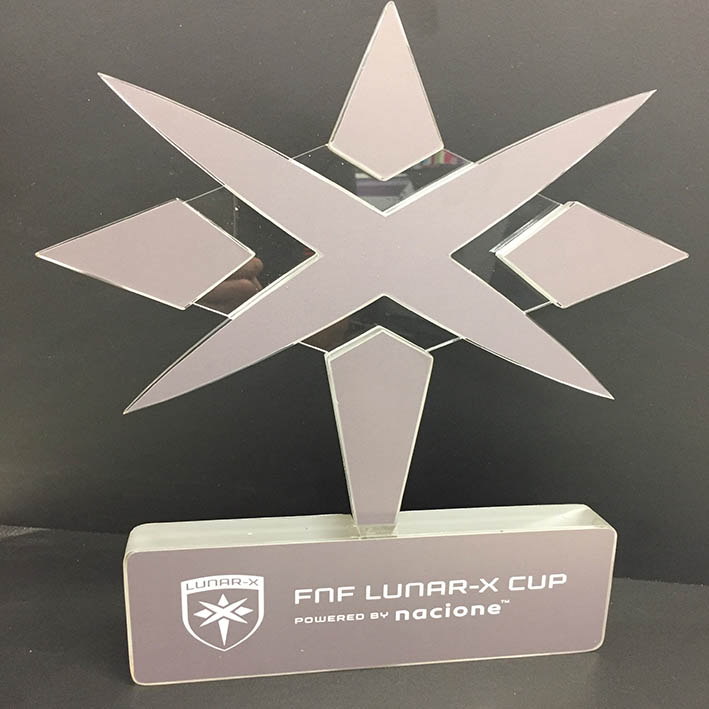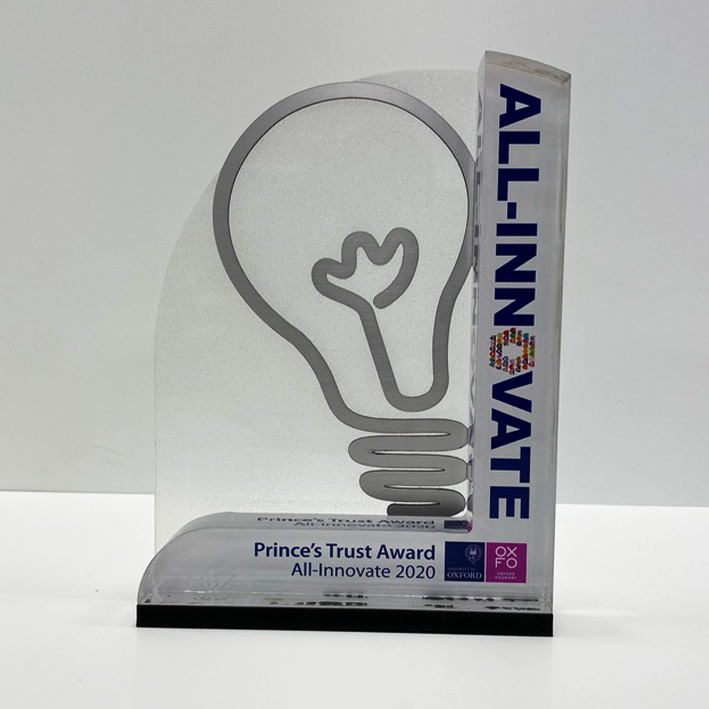 Prince's Trust Award 2020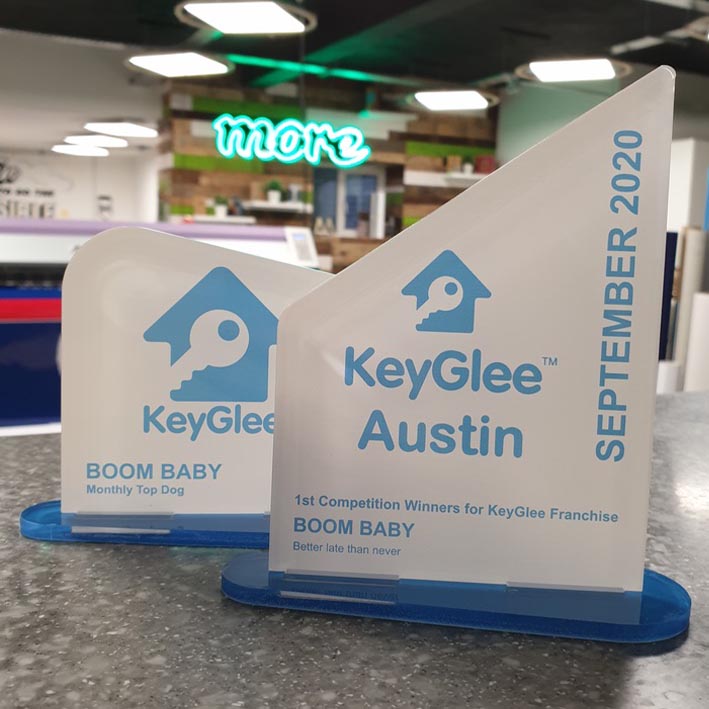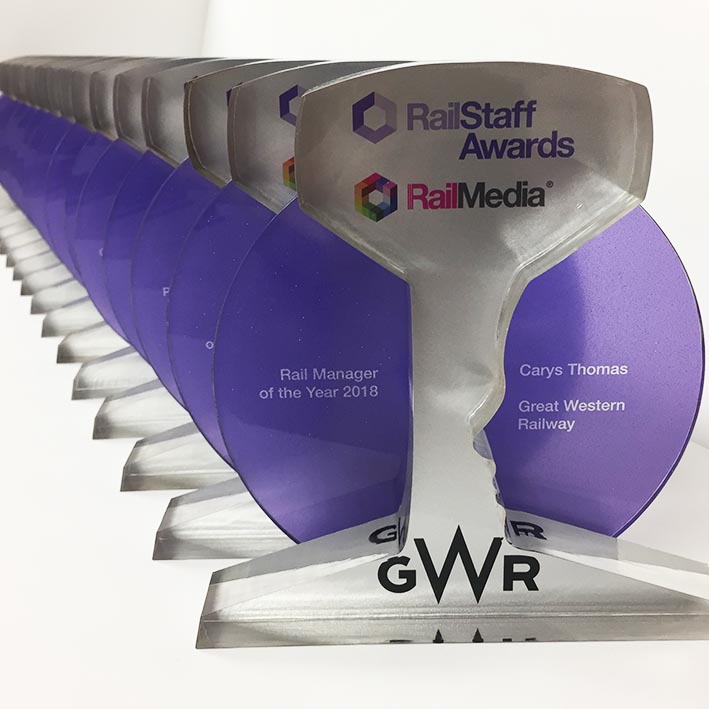 Rail Staff Awards Produced from Polished Acrylic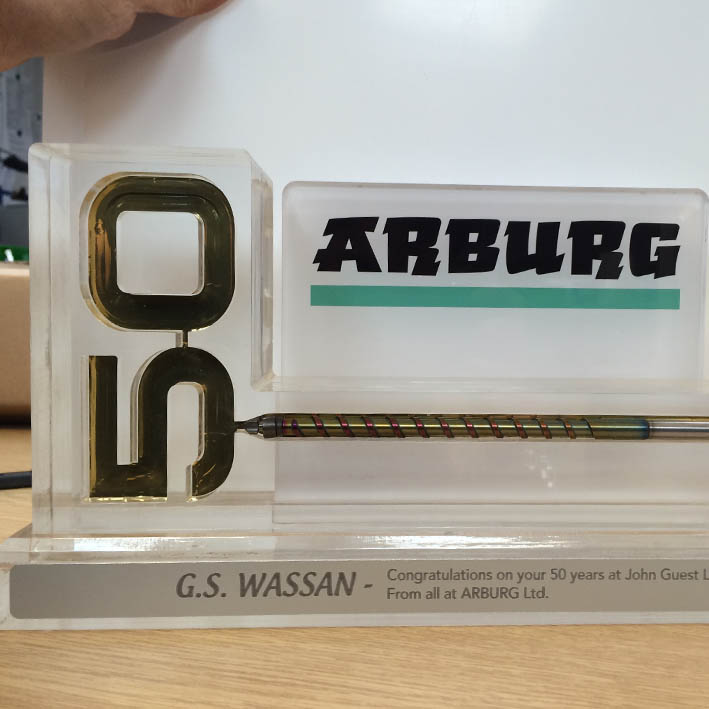 Mixed Material Awards Trophies
Mixing up the materials maximises versatility in the design, resulting in a refined look and most of the acrylics used are completely recycled.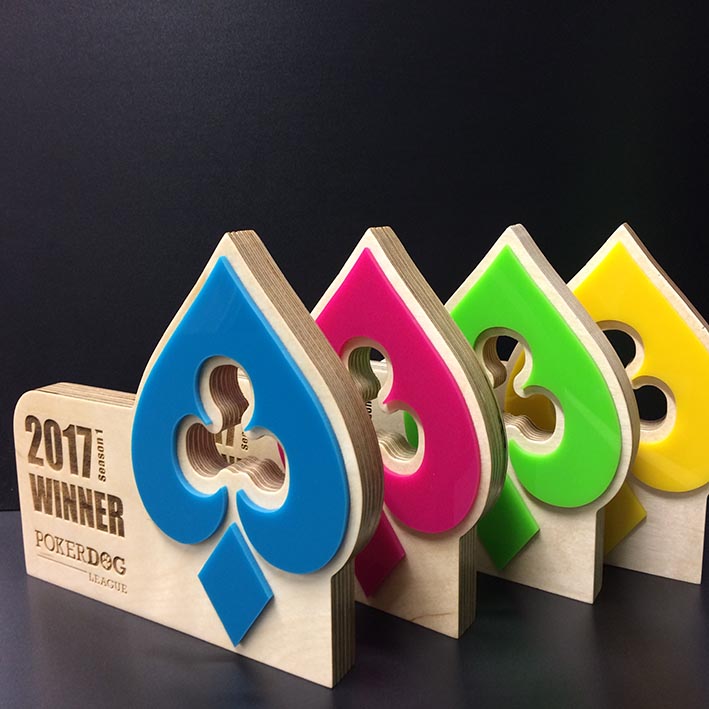 Birch Ply with Acrylic Detail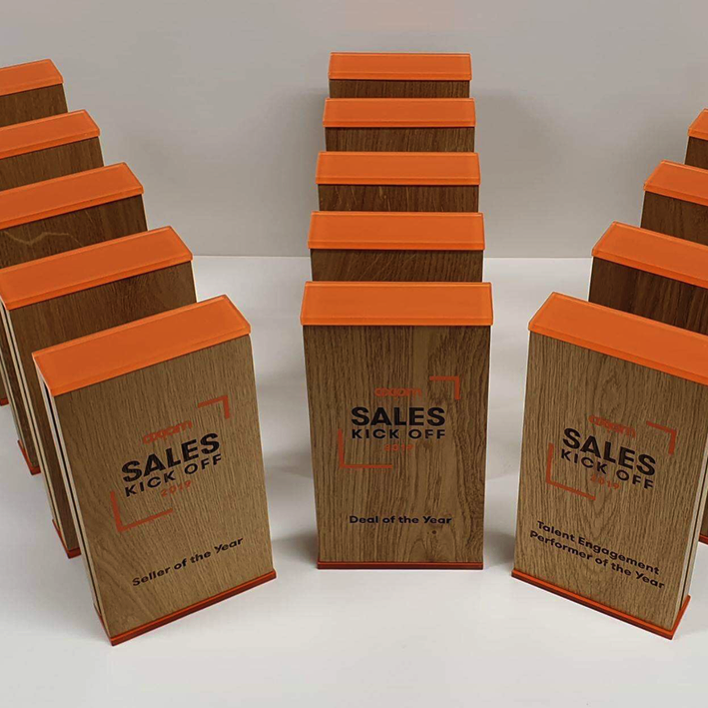 BSAVA Congress Achievement Awards, Gloucester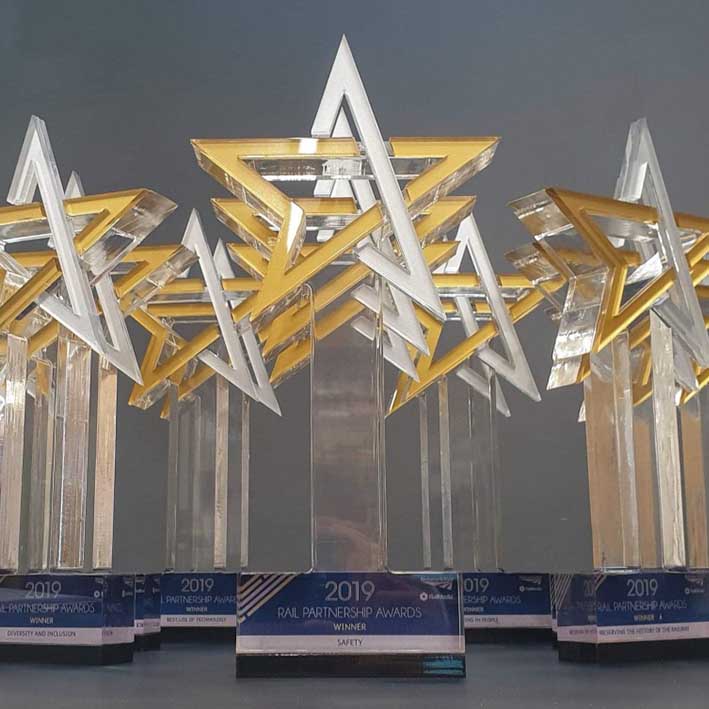 Rail Partnership Awards Produced from Polished Acrylic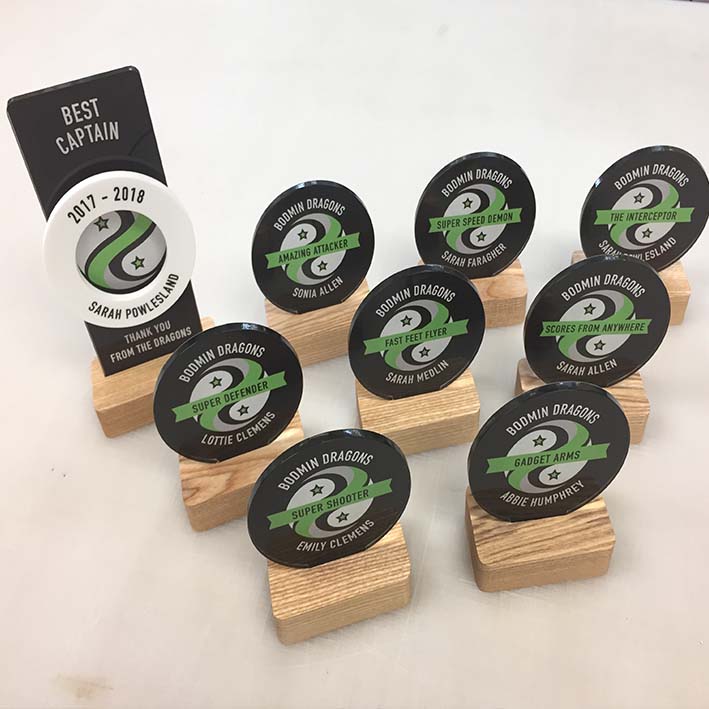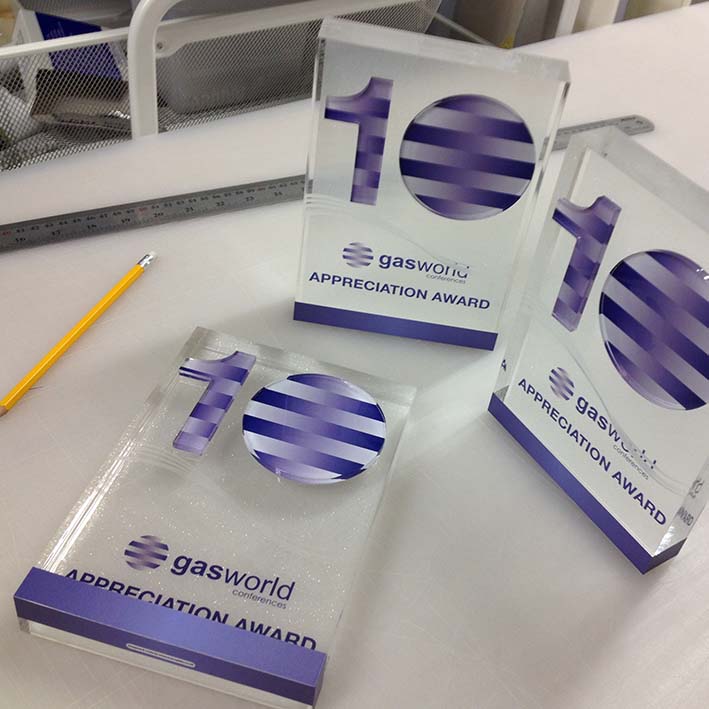 30mm Laser Cut Acrylic Awards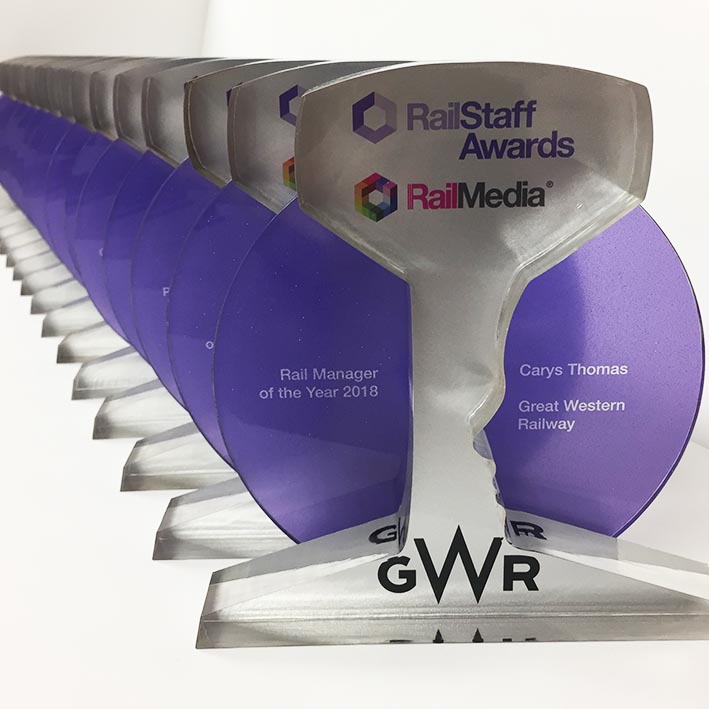 Rail Staff Awards Produced from Polished Acrylic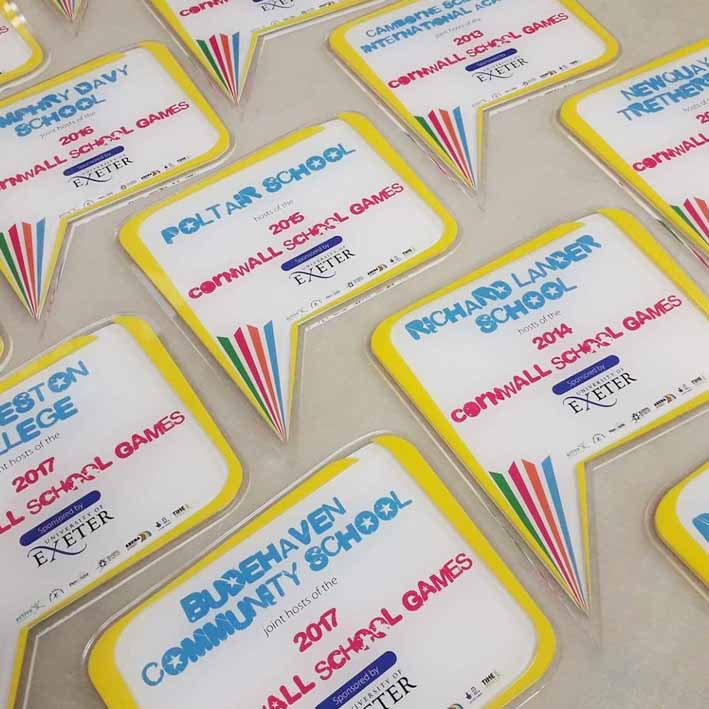 Cornwall School Games Awards for Cornwall Council
Sports Awards, Medals & Trophies
Providing a range of customisable bamboo medals, rugby and football presentation cases, plus a great choice in bespoke trophy styles.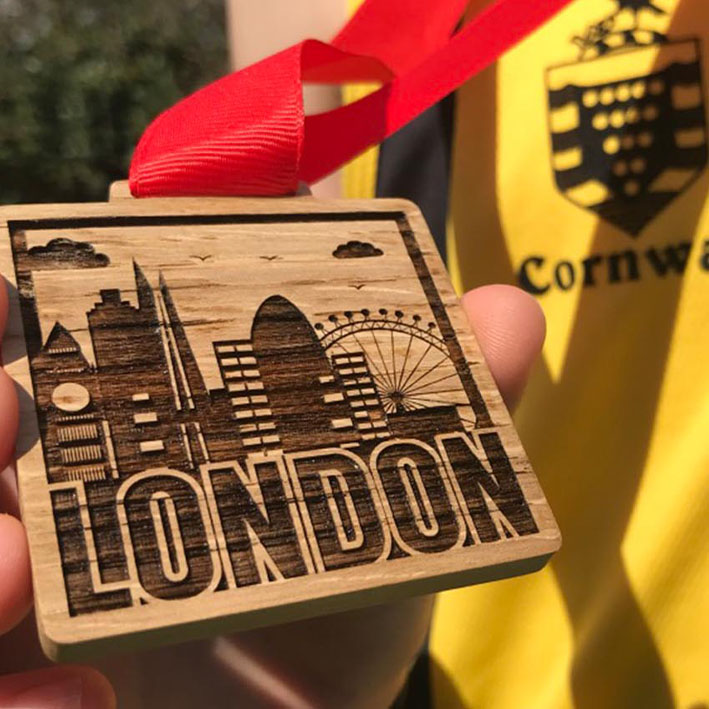 Customisable Bamboo Medals, London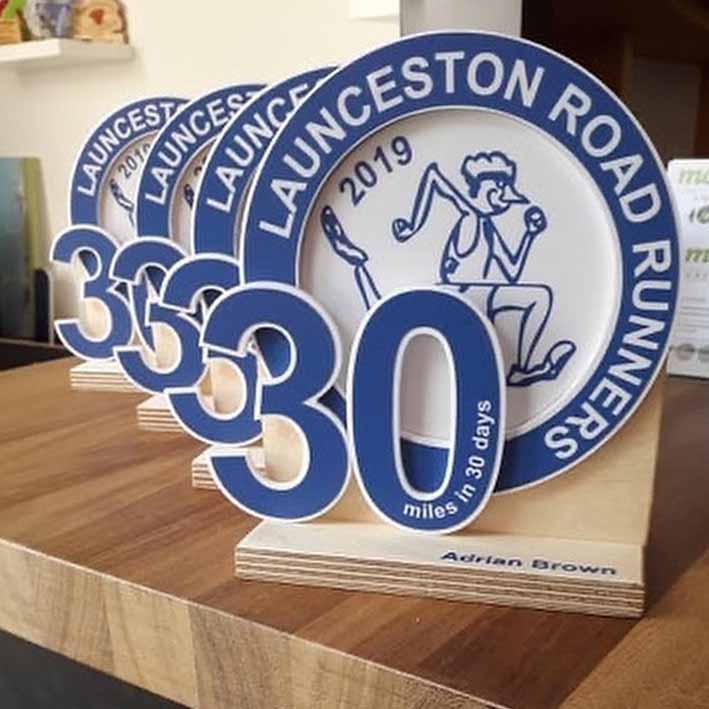 Launceston Road Runners Awards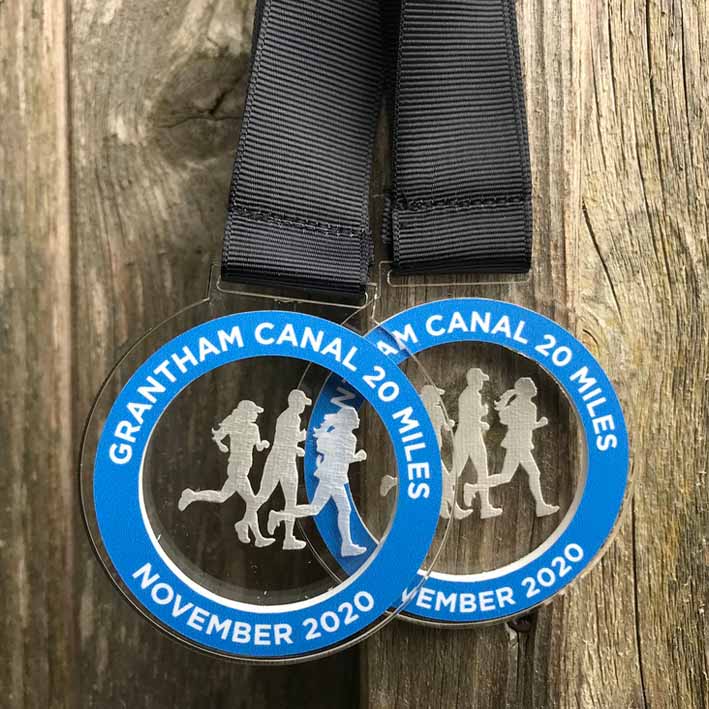 Personalised Running Medals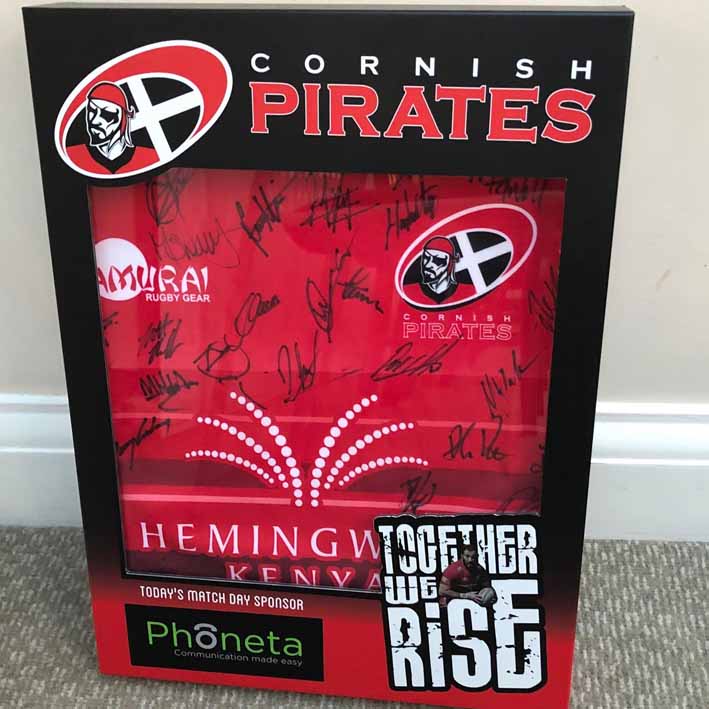 Rugby Shirt Presentation Case for the Cornish Pirates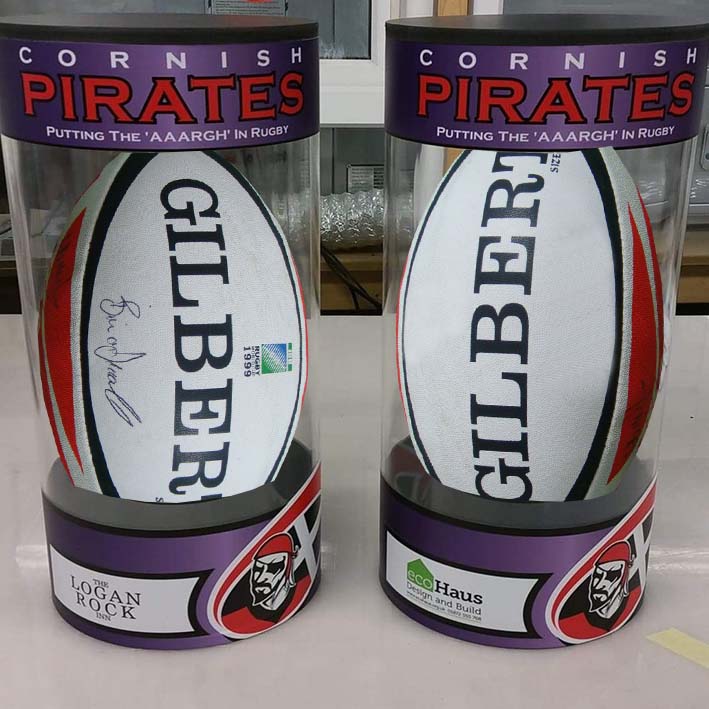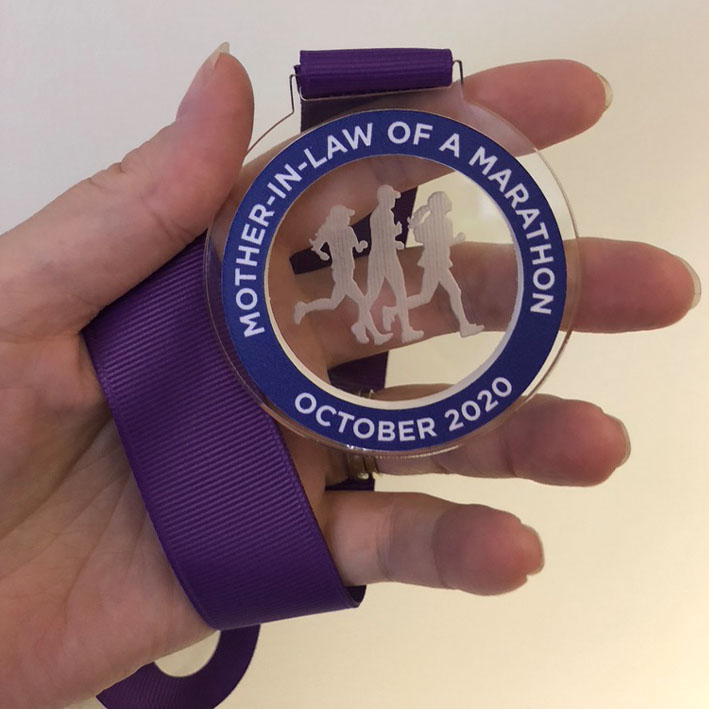 Marathon Custom Running Medals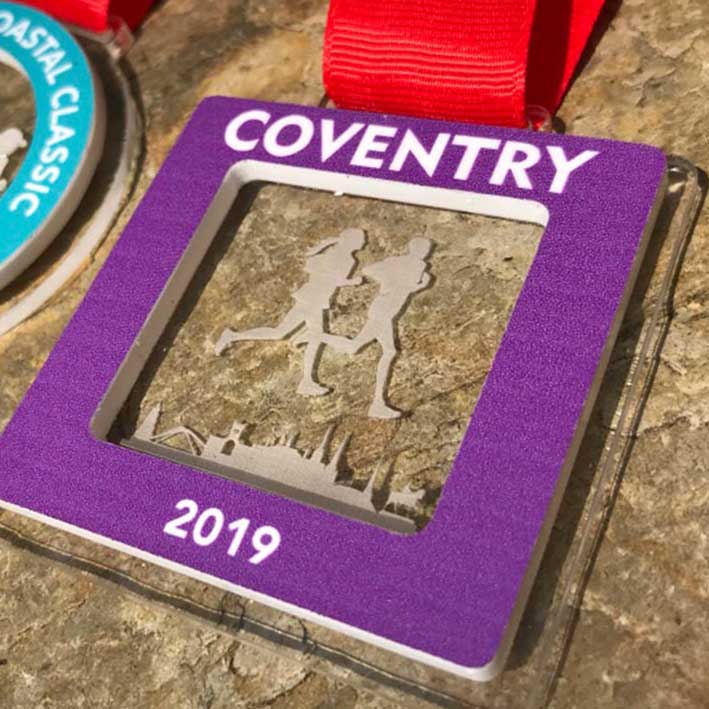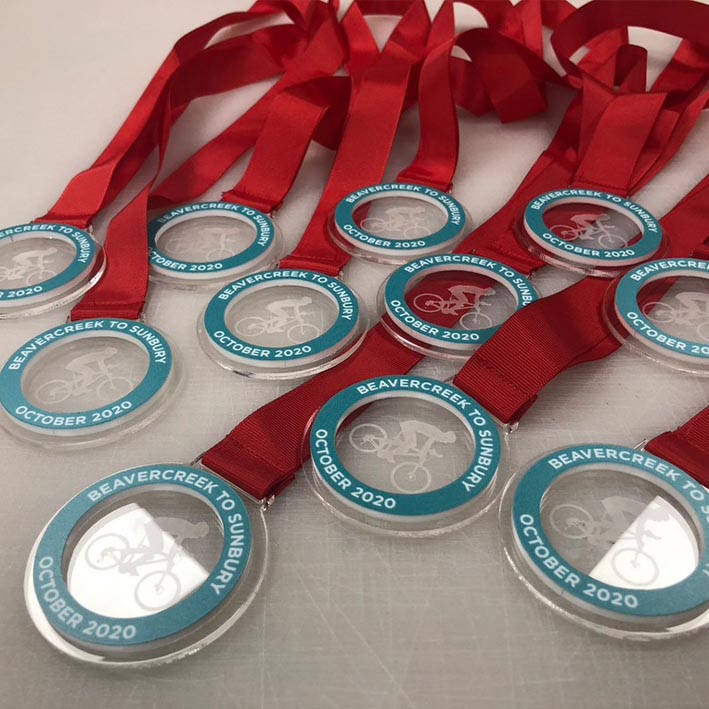 Personalised Cycling Medals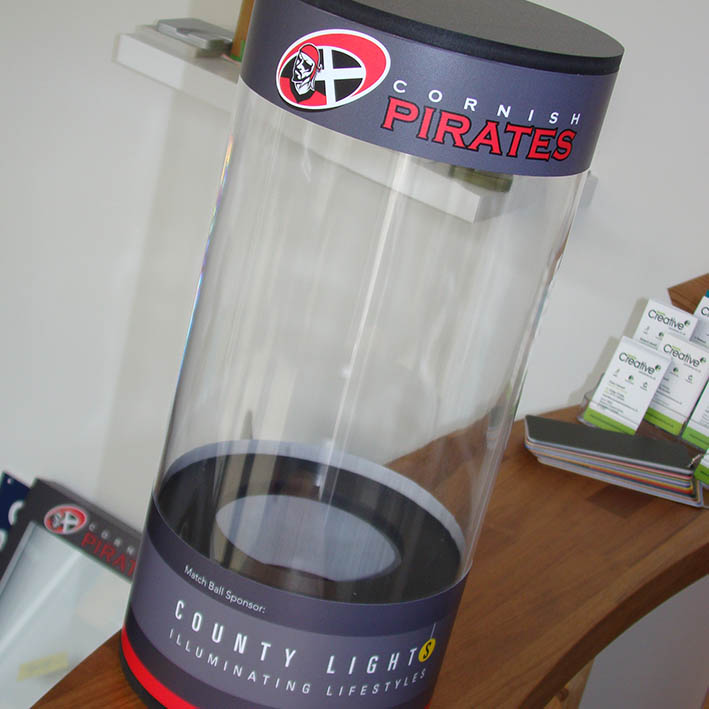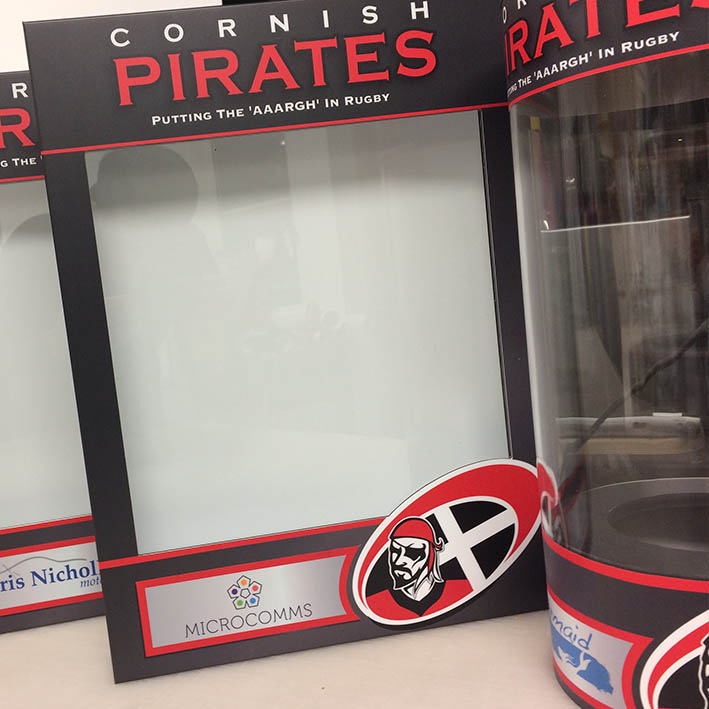 Match Shirt Presentation Case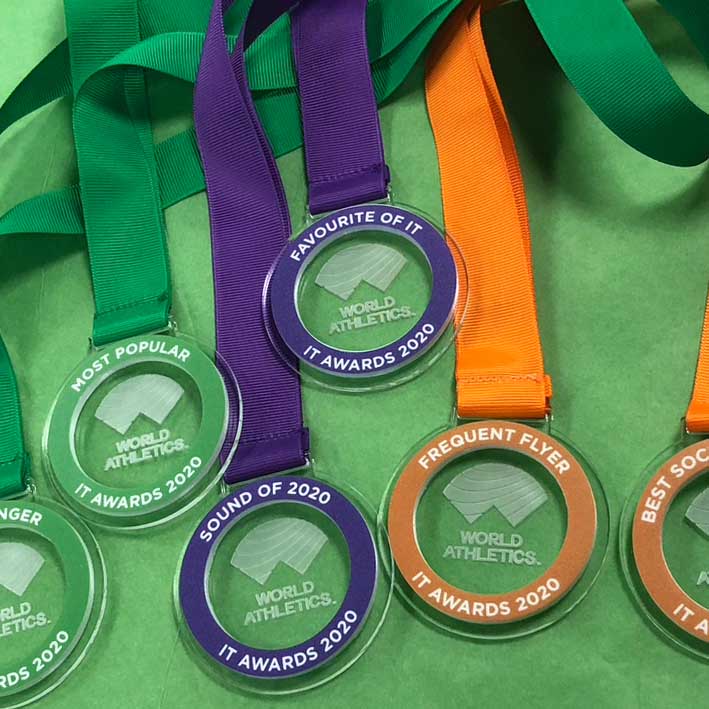 Custom World Athletic Medals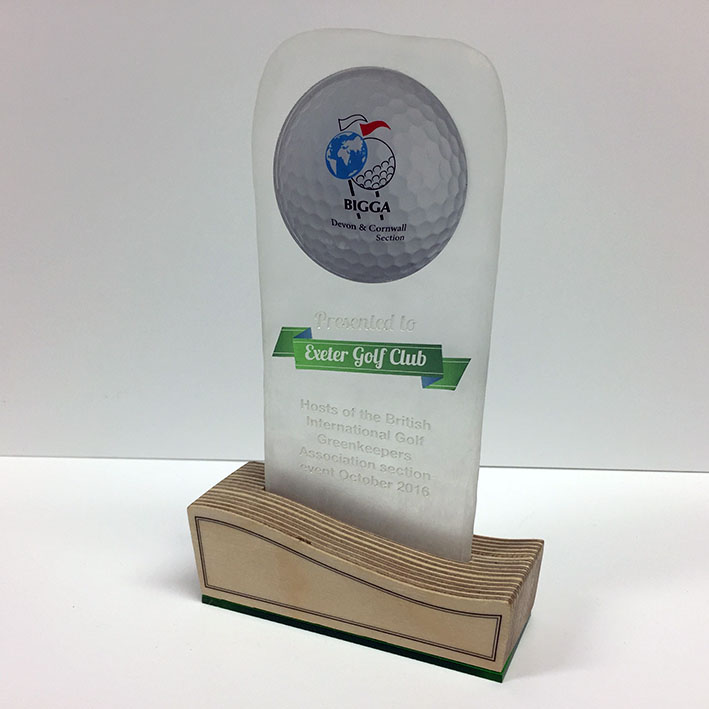 Hand made glass awards and trophies with kiln fired finishes including earthy looking recycled glass.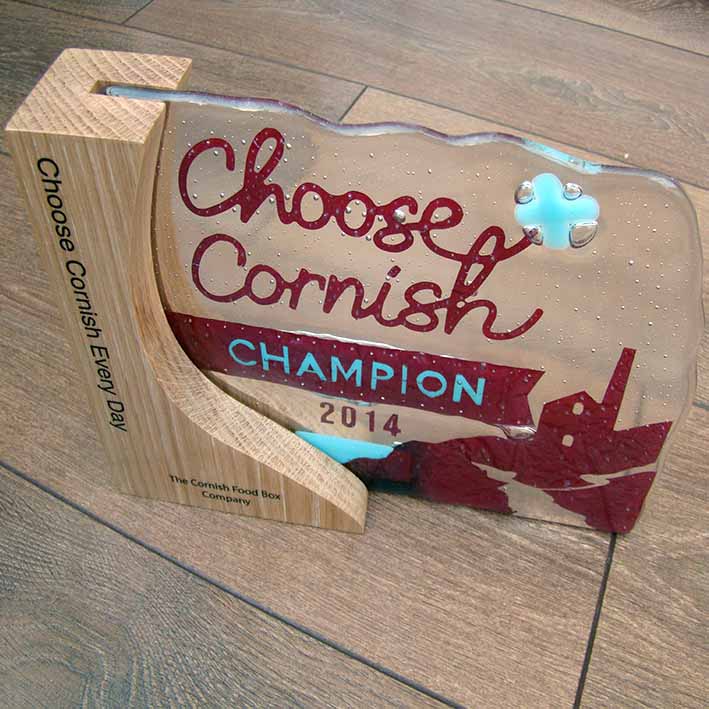 Choose Cornish Glass Awards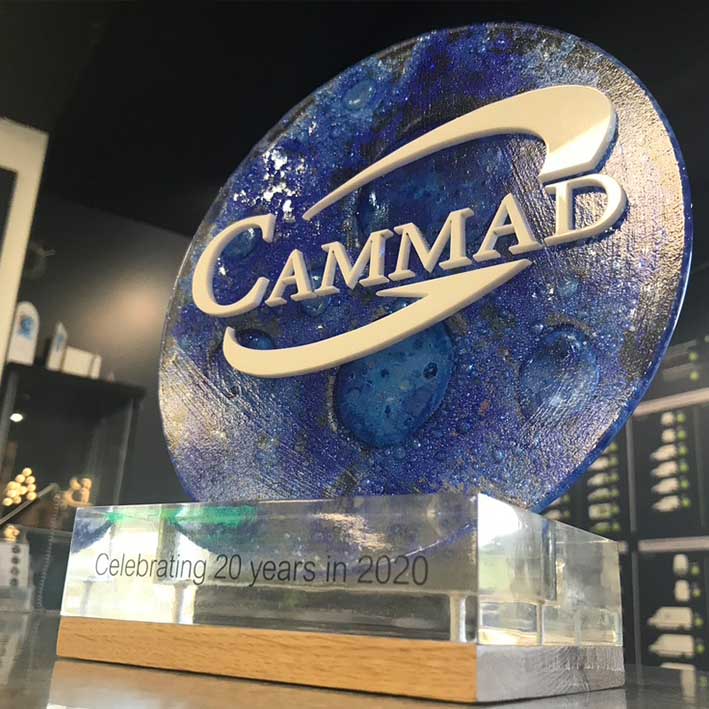 Recycled glass award with raised logo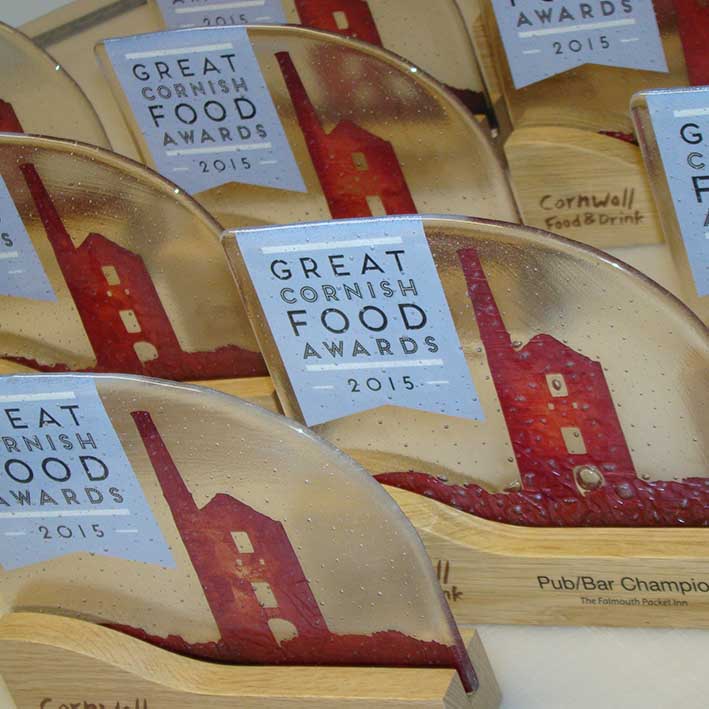 Great Cornish Food Awards Produced with Glass and a Copper Inlay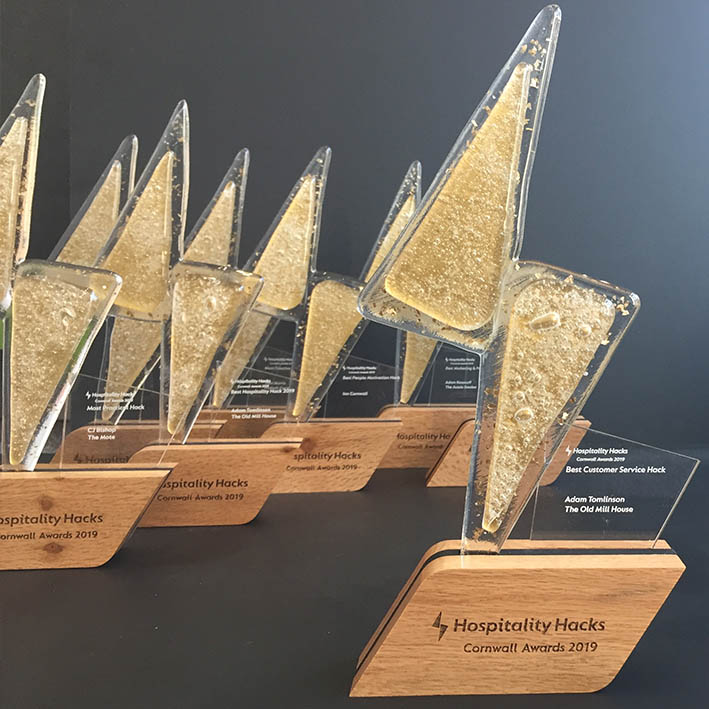 Bespoke Glass Awards for Hospitality Hacks Cornwall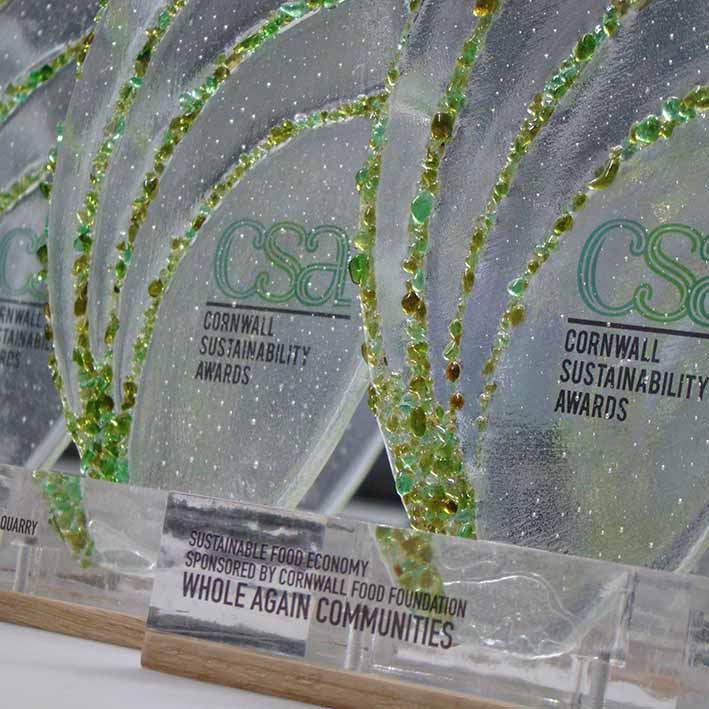 Cornwall Sustainability Awards Produced from Recycled Bottle Glass
Bedspoke Awards, Trophy & Medals made in the UK
We offer a wide variety of medals, awards & trophies suitable for any event, no matter how big or small. We have an affordable range of awards and trophies that are predesigned with lots of customising options and we are happy to work with you to achieve this. We also work with many of our clients to design bespoke awards that really mark an occasion well, whether you have an idea or an existing design. Our awards really can be as simple or as complex as you would like.

With our wide range of in house machinery including our wide format and flat bed printers, our lasers and CNC routers, we can offer so many options to make your award special and something to be celebrated.

We work with many materials, including acrylic and recycled options, wood of all varieties, bamboo, glass, stone and many metals. Working with our design team, you can be sure to get something very special that will reflect your business or ceremony well.

You can visit our showroom in Launceston, Cornwall to discuss your requirements with our team, alternatively you can contact us by the following methods…

08:30am - 5:00pm Monday to Friday
Southern Works | Newport Ind Est
Launceston | Cornwall | PL15 8EX
Don't forget to follow us: