work we are proud of…Laser Cutting & Engraving
Laser engraving and cutting service for acrylics, wood, glass and metal. Providing everything from custom instrument panels to hotel room key tags.
Laser engraving doesn't have to be intricate to be amazing. Sometimes it's the simple designs that really make an impression. Although if you really want clever, we'll give you clever! Laser Engraving is not just for arty purposes. We do a lot of other projects using our laser, ranging from engineering instrument panels to commercial hotel room key identification. Laser Engraving (or Laser Etching) is a surface technology. The laser interacts with different types of material in different ways. We can work with materials such as stainless steel, ply, hardwoods, anodised aluminium, glass and slate.
Don't forget we also offer
CNC routing
for larger components and projects.
Contact a team member here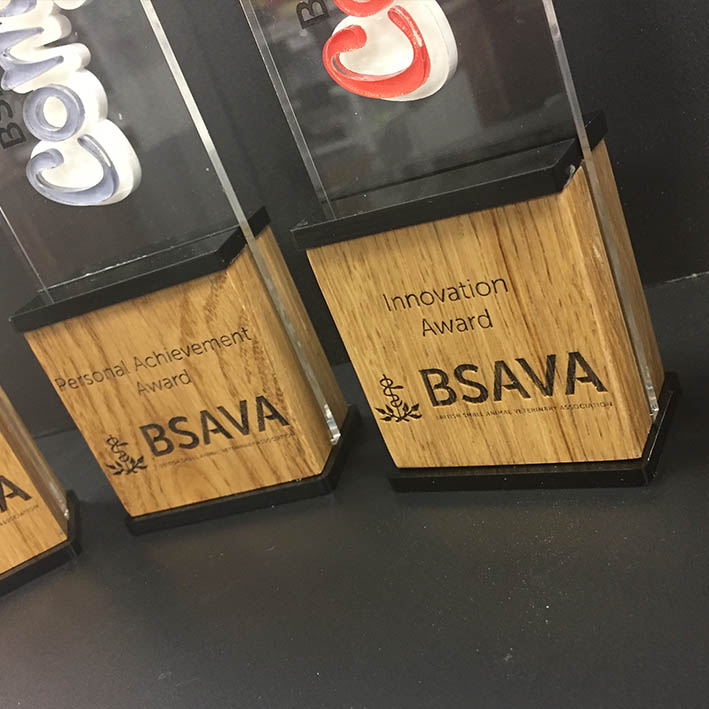 Laser Engraving onto Oak Awards, Cornwall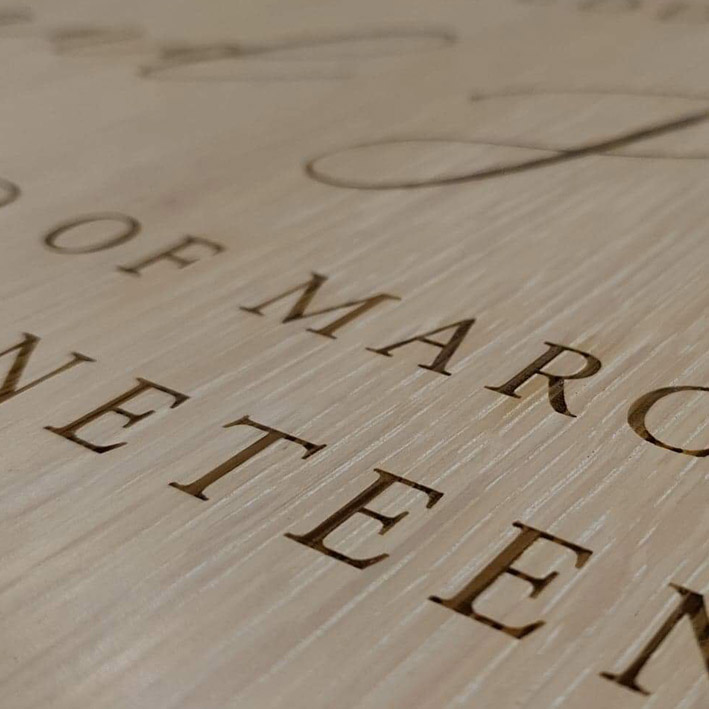 Laser Engraving of Wedding Panels, Cornwall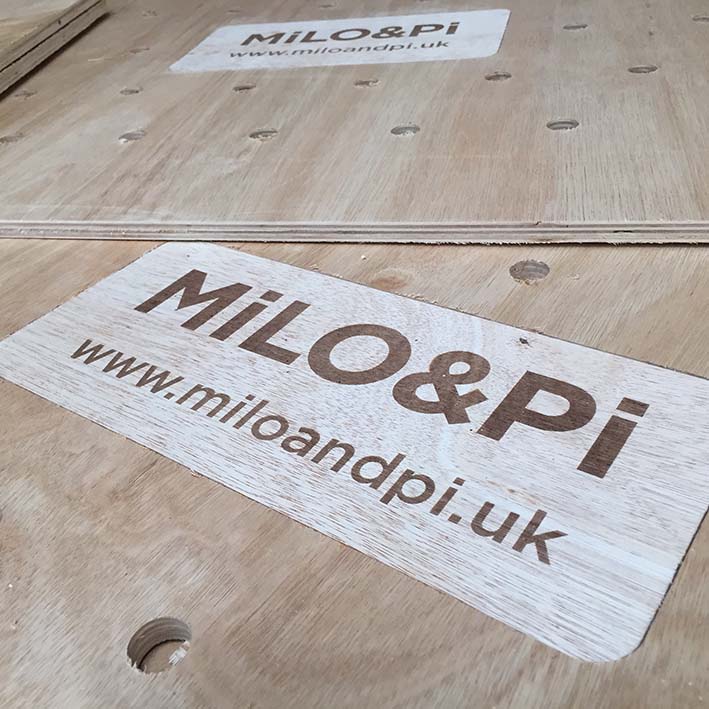 Laser Engraving on Ply for Milo&Pi, Cornwall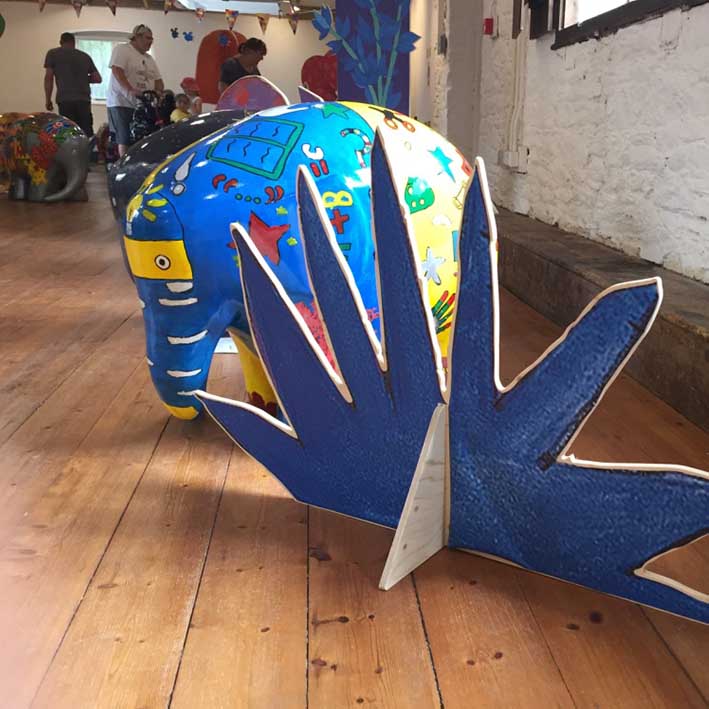 Elmers Big Parade Plymouth Devon, laser cut birch ply with graphics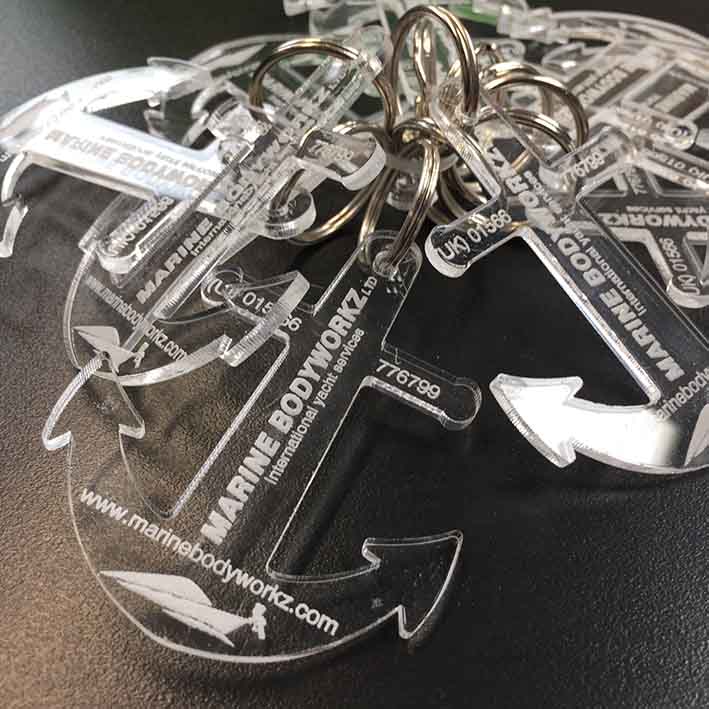 Laser Clear Acrylic Key Rings for Marine Bodyworkz Cornwall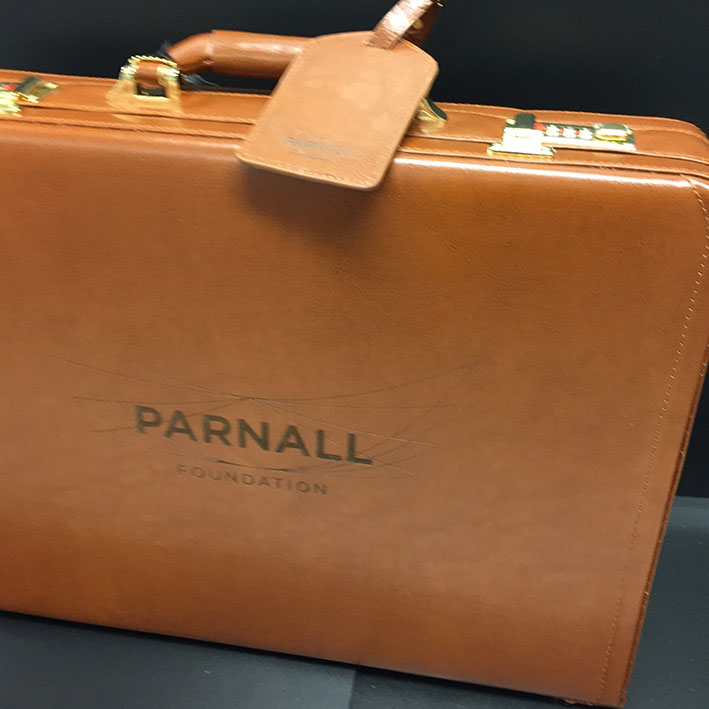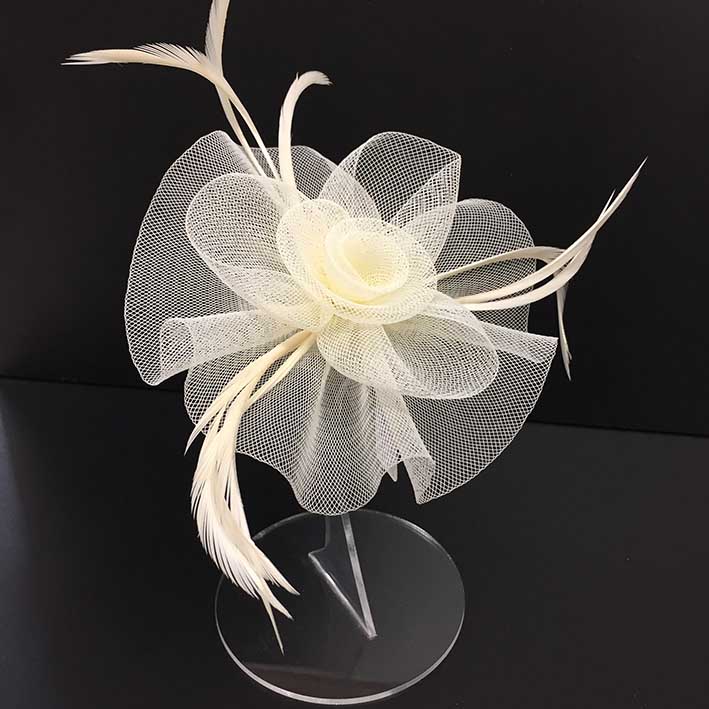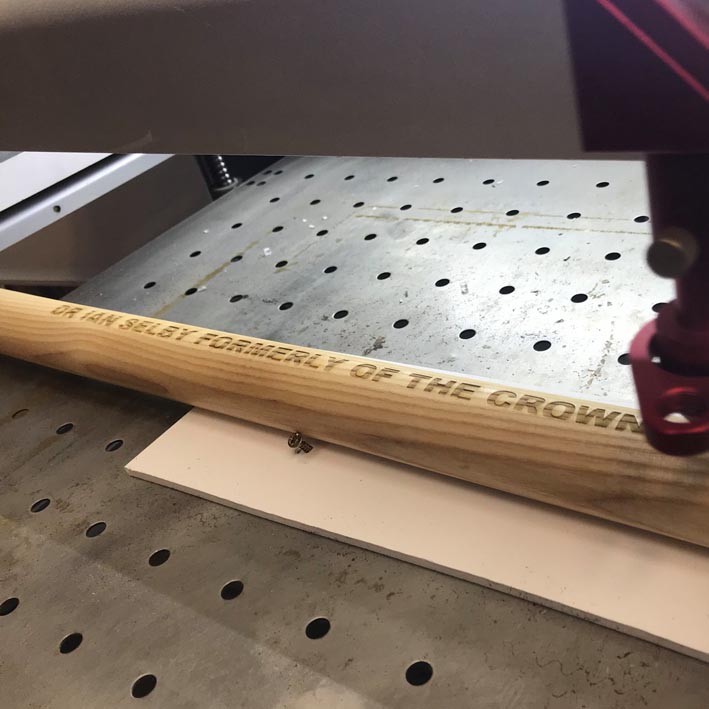 Personalisation Engraved Spade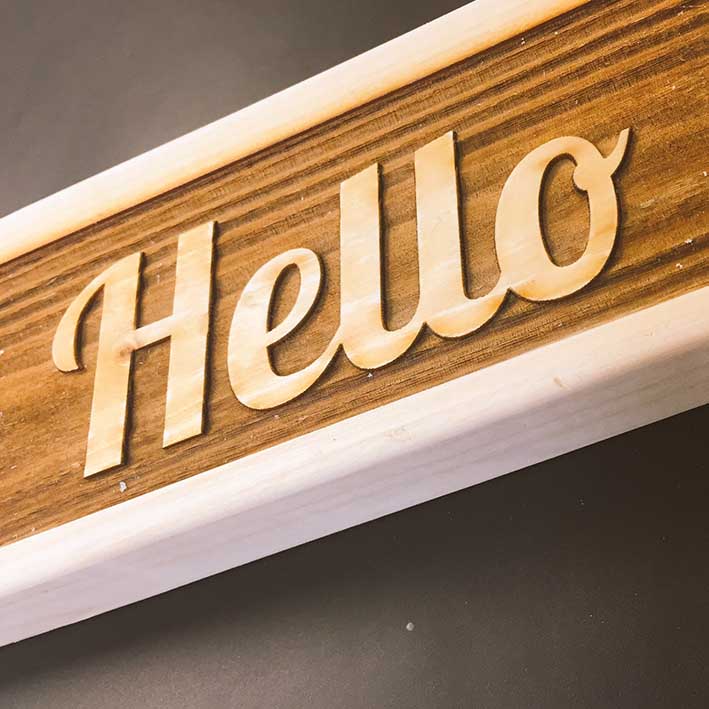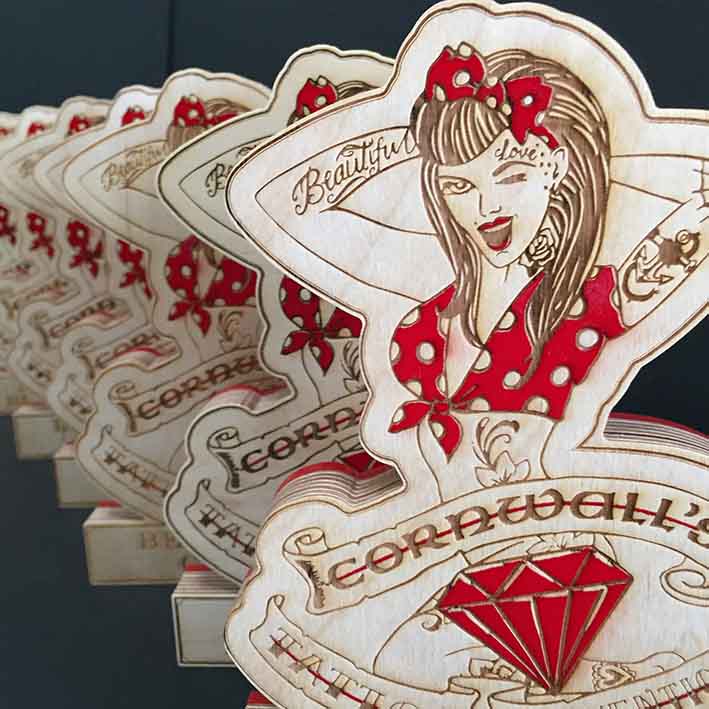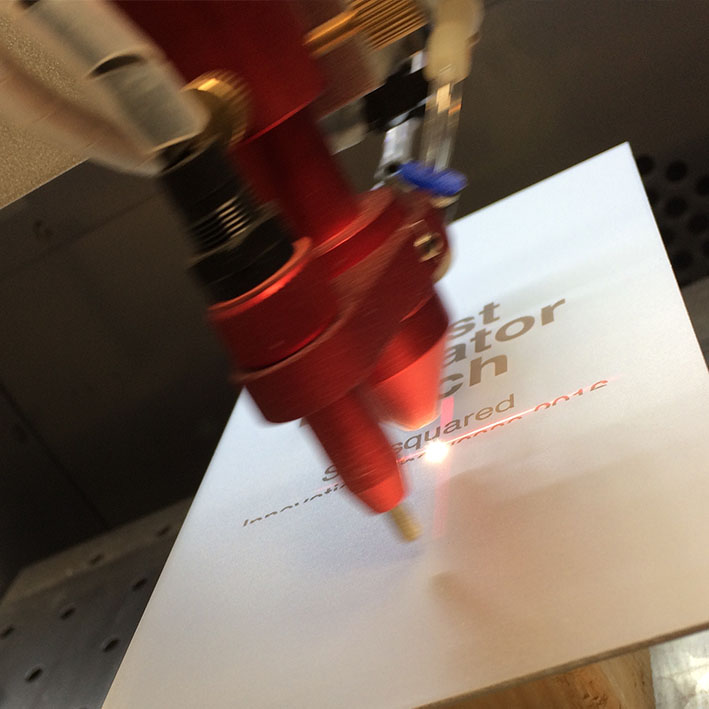 Anodised Aluminium Etched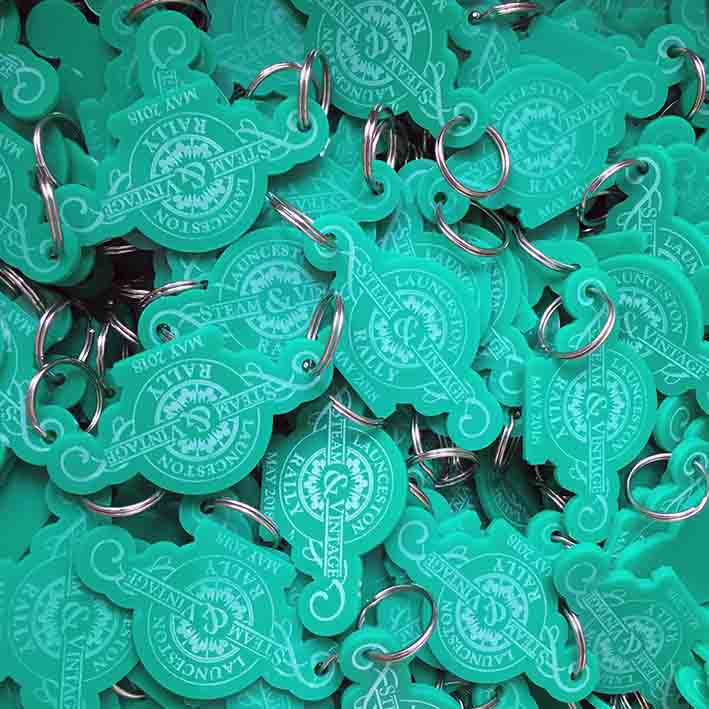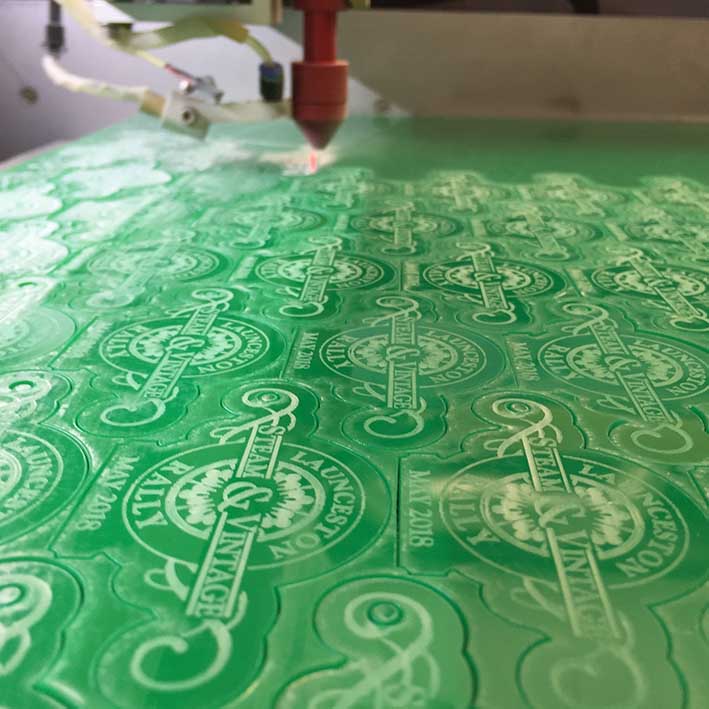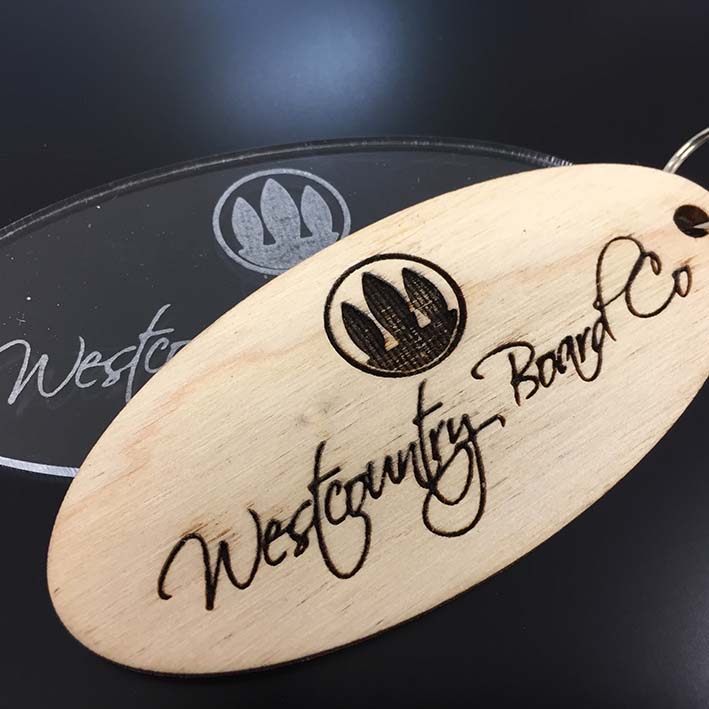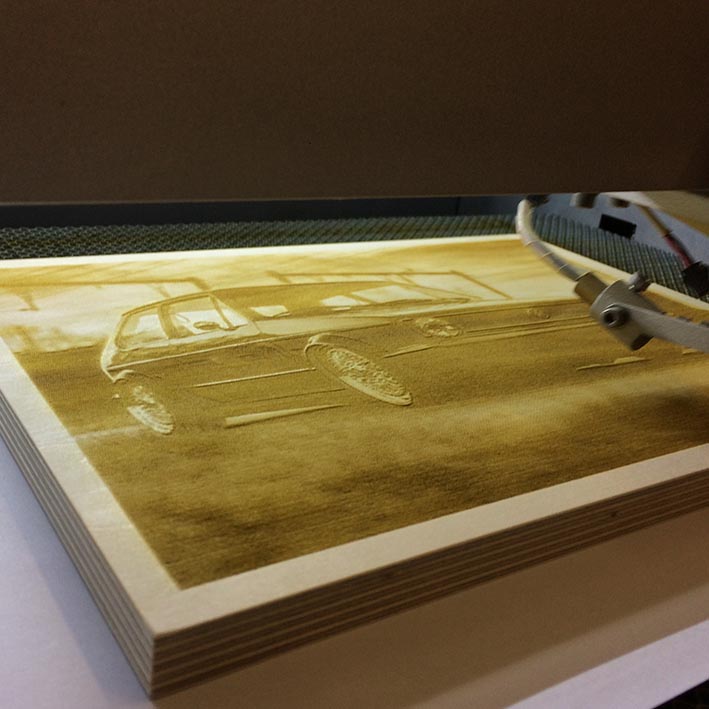 It's all in the detail, when laser cutting...
We pride ourselves on the quality of our finished products, which is not only down to our team, but also down to the machinery we have. As well as our wide format and flat bed digital printers, we also have our own laser machines and CNC routers. This enables us to retain the control of our products as we don't outsource, but manufacture everything we do in house.

Laser cutting is achieved by directing a laser beam directly onto the material surface, having reflected it off several mirrors to focus it correctly. Capable of intricate detail our laser machines can turn anything from an initial sketch or photograph into reality, either engraved or cut out from the material. We can laser cut or engrave many materials including plywood, mdf, cork, card, paper, woods of all types, stone, fabrics and glass.

Our laser capabilities enhance the signage we offer, making components for these, but there is more too. We are able to do one off designs, and have created engraved photos, name plates, awards, custom jewellery, van interiors, bespoke furniture and much more using our knowledge and expertise.
You can visit our showroom in Launceston, Cornwall to discuss your requirements with our team, alternatively you can contact us by the following methods…

08:30am - 5:00pm Monday to Friday
Southern Works | Newport Ind Est
Launceston | Cornwall | PL15 8EX
Don't forget to follow us: