15/07/20 13:02
Shops and businesses are all beginning to open again now after the lockdown, but it will probably be a long time before anything returns to any familiar type of normal.
Operating a business now means that we need to be mindful of social distancing and other legislation to keep ourselves and our customers safe.
We offer barriers and shields which work both as temporary and permanent fixtures to divide up space. These are a great option for reception desks and counters but are also becoming increasingly common for use in restaurants and cafes. We also manufacture more movable options which are perfect for treatment spaces, for example in salons.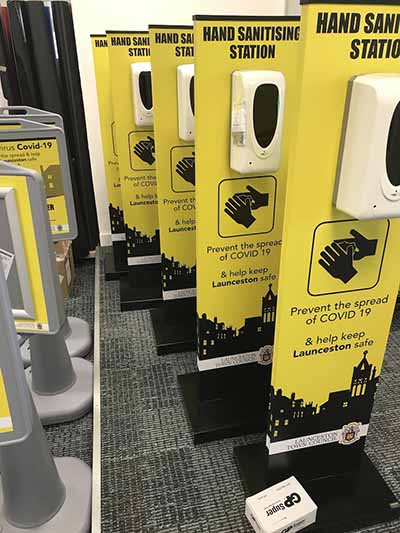 The great thing is that as we design and manufacture everything in house, we can provide solutions that suit your premises, your space and your style, meaning that while you are protecting your staff and your customers, you aren't making the space too clinical, of course you can though, if that is the effect you are looking for. Custom signs and graphics offer a solution that fits in with your brand rather than having a functional piece that stands out like a sore thumb, our Covid-19 compliant signage can be an extension of your brand and advertising.
We don't know how long these measures will be with us, so it's important that anything you buy is not only cost-effective, but will stand the test of time. We can offer options to suit different budgets from custom acrylic screens to signage and floor graphics. A recent addition is our custom hand sanitiser stands which are proving very popular, and means that our customers can provide their customers with an on-brand solution to their hygiene needs. Signs are obviously visual and can be placed, within reason, almost anywhere. Floor graphics on the other hand can be really helpful in a setting which might be lacking space for additional signage, but also for providing a solution to spacing customers, for example in a shop.
If you need anything to help your business get back to normal in the current circumstances, give us a call, we'd love to help.
All the best,
Claire and the team